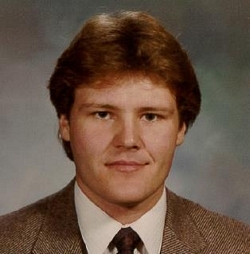 Gregory S. Haymans, 56, of Potomac Falls, VA, formerly of Great Falls, VA, passed away peacefully at his home on Thursday, September 13, 2018. He was born on March 7, 1962 in Washington, DC, the son of Bob and Carole (Shaffer) Haymans. He was raised in Camp Springs, Maryland, where he had wonderful childhood friends.

Greg was predeceased by his father. He is survived by his mother; his children: Caroline, Andrew, and Joshua Haymans; a sister, Kimberly Haymans-Geisler (Max), of Eagleville, Pa.; uncles and aunts: Richard Shaffer (Natalka) of Woodland Park, NJ, Sean Shaffer of Colorado Springs, Co., Karen Peters of Dunkirk, Md.; his former wife, Catherine Haymans, of Great Falls, Va.; and many cousins.

He studied piano for several years. A talented youth athlete, Greg excelled in baseball and basketball. He was a graduate of Bishop McNamara High School (Class of 1980) and Mount St. Mary's University (Class of 1984). For over three decades, he was employed as a successful corporate sales executive within the government and technology sectors. In his spare time, Greg enjoyed reading, studying history, playing his piano, and socializing, boating, and crabbing with family and friends. He served as a member, former vice president, and Education Committee chairperson of the Great Falls Historical Society, designing and conducting the annual GFHS trivia contest held on July 4th. Greg actively participated in church events and was a member of the Our Lady of Hope Council (No. 12971) of the Knights of Columbus, holding the title of Third Degree Knight in the Pope John Paul II Assembly.

A Mass of Christian Burial will be held at Our Lady of Hope Catholic Church in Potomac Falls, Va. at 11:30 a.m. on Saturday, November 3, with Rev. Nicholas Schierer officiating. There will be a short visitation, including a Rosary, at 11:00 a.m., preceding the Mass. Burial in Dunkirk, Calvert County, Maryland at Southern Memorial Gardens will be private. In lieu of flowers, donations in Greg's memory may be made to the American Diabetes Association (http://diabetes.org/donate).