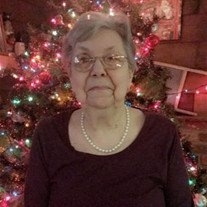 Dorothy (Dottie) E. Cole, 77, of White Plains, MD passed away on Saturday, September 22, 2018 at Washington Hospital Center, In D.C. She was born March 12, 1941 in Washington D.C. She was one of 6 children of the late William and Thelma Hackley. She was preceded in death by her beloved late husband of 60 years, Russell Cole and brother Jack Hackley.

Dorothy was known as "Dotty" to her friends and family, and "GG" to her grandchildren and great grandchildren. Dorothy was well known for her beautiful caring spirit, her fun-loving personality, and her great love for all children and her family. The joy of her life was being around her children, caring for her Down syndrome son, Donny, and helping to raise her grandchildren and great grandchildren every day of her life. She was always dancing, singing and making everyone laugh. All that met her would instantly love her, as they sensed her care for others and brought a smile to everyone's face. She never complained and was always concerned about how everyone else was doing.

She was the matriarch and the glue of her loving family of 5 children, Joanne Kendrick; Brenda (Tim) Alipaz; Donny Cole; Robert Cole and Dawn McLaughlin. Her 7 grandchildren, Crissy (JJ) Simpson; Amanda Cole; Ashley (David) Hernandez; Jordyn Alipaz, Shasta (Brian) Horan; Alex Alipaz and Justus McLaughlin. Her 11 great grandchildren, Brianna Snead; Joey Willett; Gracie, Austin, Blake and Taylor Simpson; Noah, Silas, and Henry Hernandez; and Tristan and Logan Horan; siblings Virginia Mooney, George, John, and Billy Hackley; also by numerous nieces, nephews, other relatives and friends.

A gathering will be held on Saturday, October 6, 2018 from 1PM until time for a Celebration of Life service to begin 2PM at Raymond Funeral Service, P.A., 5635 Washington Avenue, La Plata, MD 20646. Donations can be made in memory of Dorothy to Spring Dell Center, 6040 Radio Station Rd., La Plata, MD 20646.