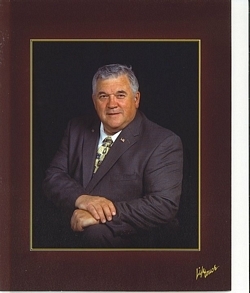 Elroy R. (Mac) McLeod, 74, of Huntingtown, Maryland, went to be with the Lord on September 13, 2018 at New Hanover Hospital in Wilmington North Carolina. He was the beloved husband of the late Patricia A. McLeod and surviving spouse, Richelle McLeod. Born in Escanaba, Michigan he was raised in Gwinn and was the son of the late Dorothy (Roberts) McLeod and Russell McLeod. Elroy will forever be in our memories and will be greatly missed by family and friends.

Elroy graduated from Gwinn High School in 1962, and joined the US Navy. The Navy took him all over the world on land and sea where he served for 20 years and retired as an Aerographer. Elroy then went onto work for NOAA and was a member of the Naval Weather Service Association.

A dedicated member of St. John Vianney Catholic Church, Elroy was very involved in the parish life. He was a Member of the Knights of Columbus, Our Lady Seat of Wisdom Council 11259 and Fourth Degree, Lord Baltimore Assembly. Always ready to help those in need, Elroy immersed himself in many causes. One closest to his heart was the Plight of the Unborn. He was blessed with the gift of gab, story- telling and never met a stranger. He was a very special person.

A loving father, grandfather, brother and uncle, Elroy leaves behind four children, a son and three daughters, Jason and wife Mary Kay McLeod; Cathy and husband Erick Valero; Laura and husband Bart Cash; and Jenny and husband, Mark Pierce. He was blessed with ten grandchildren: Casey, Michael, Gabriel, Sarah, Isabella, Madison, Sophia, Drew, Garrett and Maggie; his sister Janet and brother Dennis.

A visitation for Elroy Russel McLeod will be held on Thursday September 27, from 5:00-7:00 pm at St. John Vianney Catholic Church, 105 Vianney Lane in Prince Frederick, MD. Funeral Mass and Burial will be held on Friday September 28th, at 11:30 a.m. at St. John Vianney Catholic Church, 105 Vianney Lane in Prince Frederick, MD. Memorial contributions may be made to St. John Vianney Catholic Church. Arrangements by Rausch Funeral Home, Port Republic, MD.