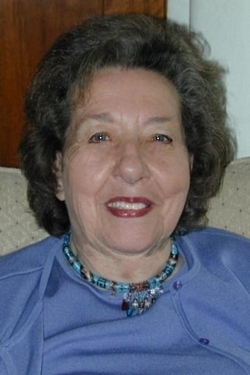 Florence Anna Garvey passed away on September 16, 2018 in the loving care of her family. Born on December 7, 1922 in Andalusia, PA to Quinto Diamanti and Elisa (Cittadini) Diamanti, Florence (Anna) attended Bensalem High and graduated from Moore College of Art and Design in Philadelphia, PA. She married her husband, William Edward Garvey Jr. (Bill) in 1945. They lived in La Plata, MD for 56 years raising a family of nine children.

Florence was an artist who taught art in the Charles County school system where she was a favorite teacher to many of her students. They also lived in Morocco, Niger, the Congo and Haiti where Bill was a foreign service officer. Their cocktail parties were legendary. She spent her final years in Melbourne, FL to be closer to her children.

Florence enjoyed gardening, art, playing bridge, and travel. She and Bill were superb entertainers and their home often bustled with a large group of friends. Dinner parties and holidays featured her spectacular cooking. Her garden overflowed with roses. She was involved with the Charles County Fair, Charles County Garden Club, Children's Aid Society, the Historical Society, the CSM Spanish Club and the Mattawomen Creek Art Center.

Florence is preceded in death by her parents, her husband, her son William Ashby Garvey, her brothers, Hugo, Alfred and Arthur Diamanti, and her sisters-in-law, Marian Garvey, Catherine Diamanti and Marlene Diamanti.

Florence is survived by her children, Kathy Garvey, Anthony Garvey, Patrick Garvey, Edward Garvey, Mary Garvey, John Garvey, Elizabeth Garvey Printz, Francis Garvey; their spouses, Ayse Garvey, Heidi Garvey Wittasek, Clara Rose Garvey, Angela Garvey, Anita Metsarinne-Garvey; her grandchildren, Jennifer Tallon, Jennifer Garvey, Wendy Sloan, Aaron Garvey, Julie Gammache, Brendan Edwards, Maria Garvey-Caruso, Kristiana Ketterman, Peter Garvey, Joseph Garvey, Isabel Garvey; her great-grandchildren, Azura Tallon, Taylor Sloan, Keevan Tallon, Grace Sloan, Maximillian Gammache, Aaron Sloan, Tilly Mordstein, Adam Sloan, Ethan Ketterman, Josephine Gammache, Leonardo Gammache, Alexander Ketterman, Tessa Gammache, Florence Max Garvey-Caruso; and many beloved nieces, nephews, grand-nieces and grand-nephews.

A Mass of Christian Burial will be held at St. Ignatius Church (8855 Chapel Point Rd., Port Tobacco, MD) on Thursday, September 27, 2018 at 11 AM. Interment is private. Arrangements by Arehart Echols funeral Home.