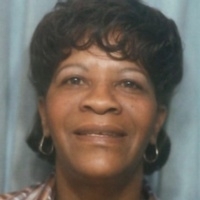 Luella Brunson (Age 86) of Waldorf, Maryland. On Friday, September 14, 2018 at her residence in Waldorf, Maryland, Luella Brunson peacefully transitioned to eternal rest. Luella Graham Brunson was born on April 21, 1932 to the late Arthur Graham and Hattie Mae Roberts in Erwin, North Carolina. The Lord called her to eternal rest at her home on Friday, September 14, 2018 in Waldorf, Maryland.

Luella was raised in a Christian home by Charlie Edward McNeill, Sr., and Hattie Mae Roberts McNeill. Though the oldest of seven children and the smallest, she was nicknamed, "Teency." She attended Capital Highway School with a love for acting and singing. In 1951, she married Franklin Douglas Brunson in Bennettsville, South Carolina on the 4th day of January. Of that union they were blessed with two wonderful children, Natasha Monique Shamone-Gilmore (aka Brenda Faye Brunson) and Calvin Tyrone Brunson.

Luella had a great spirit. When it came to recreation, the "Good Time Social Club, Inc." was the thing. She traveled locally and abroad stating that Aruba and Barbados were her favorite vacation spots. She was an awesome seamstress and a talented hair stylist. She worked at the Mayflower Hotel while attending Cosmetology School. Once she obtained her Cosmetologist License, she styled hair at Barbara's Beauty Salon and Hair Action until retirement. Her favorite sayings were "Mo-Hair," "Shut My Mouth" and "Hola!."

Luella loved the Lord, her children and family. First Baptist Church of Capitol Heights became her church family where she was celebrated as a "Living Legacy" in 2007. Over time, she has worn many hats and titles such as Nana, Nana B., Granny, Momma Lue, Lula Bell, Poo, Momma Brunson and Ms. B to name a few! She is directly related to the Graham/Gillis/Morrison, McNeill, Douglas, Kersey, McDonald and the G.E.M.S. We are all here today connected because of family.

Her Viewing will be, 10:00 am until time of Service, 11:00 am, Saturday, September 29, 2018 at First Baptist Church of Capitol Heights, 6 Capitol Heights Boulevard, Capitol Heights, Maryland 20743. Interment, Cedar Hill Cemetery, 4111 Pennsylvania Avenue, Suitland, Maryland 20746. Arrangements by Thornton Funeral Home.