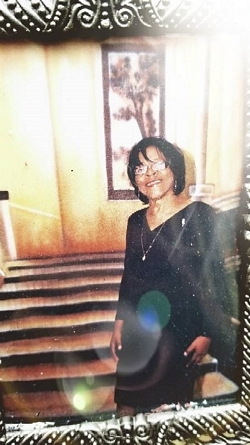 Shirley Inthas Roach (Shelly) walked boldly into heavens gates to be with Jesus on September 14, 2018. Shirley was born in Leonardtown, MD on December 17, 1944 to the late George Washington Roach (New Berns, NC) and Esther Inthar Roach (Drayden, MD). She found the Lord early in her life. She was a STRONG solider for Christ! Shirley was very independent and sophisticated.

Shirley worked for many families in the St. Mary's County areas. She was a homecare provider and caregiver for many families and homes in this area. She worked for families including the Dyson's, Springer's, Bohanan's, Echols, Terrance, Marshall's, and many others. Later on in her life, she decided that she wanted to take care of individuals with disabilities and handicaps. She trained &worked for The Arc of Southern, MD for about ten years until her health began to decline. She battle with diabetes for several years. However, you always seen her smiling & pressing her way through. She wouldn't dare complaints.

Shirley would meet with her only friend, her BEST FRIEND, Ms. Sarah Jordan. Those two would walk down Happyland Road around 5ish in the evenings, which was their meeting time. They would exercise, talk, and laugh about everything. Shirley loved to read her bible. It was her hobby and she delighted in the word of GOD, passionately. She knew what "thus sayeth the LORD"! She found so much joy in praising GOD and living the life style that was pleasing in GOD's sight. Shirley was a beautiful example of a strong black Christian woman.

Shirley also found joy in working in her garden and doing landscaping around her home. She looked forward to family gatherings and visits from her family. She adored the both of her sons and when her health began to declined she was blessed to have two of the best son's GOD could have blessed a person with (Robert "Bobby or Brother Bob and Paul or Mr. Paul" and her granddaughter Miss Shawn. They came together and cared for her until her departure. Her sons brought her so much joy. She had a very beautiful, open, loving, and always honest relationship with her sons.

She is proceeded in death by her mother and father George and Esther Roach, her older & only sister Katie L. Coleman, and her little brother William B. Roach. She leaves to cherish two loving sons, whom she adored dearly, Robert Vincent Roach and Arthur (Paul) Taylor, a grand-daughter who was indeed her other best friend, La Shawn Forbes Roach, her only grandson Caleb Alexander Roach, and her only great grand-daughter who loved to sing to her and she loved to hear sing to her Ja'Sha Illiana Forbes, four brothers Lavern Valentine, George Washington, Christopher Columbus (Pamela), and Nathaniel Allen Roach. She also leave to cherish her uncle Frank Travers (Edith) of Dray den, MD and a host of cousins, nieces, nephews, relatives & friends.

Services will be held and conducted at St. Matthew's Pentecostal Church located at 23755 Leonardtown-Hollywood Road Hollywood, MD 20636 on Saturday, September 22, 2018 at 10:00 a.m. The viewing will start at 10:00a.m. And the services will follow at 11:00a.m. Services will be officiated by Elder John Butler, Pastor of St. Matthew's Pentecostal Church. The services will be professionally directed by Sewell Funeral Homes.