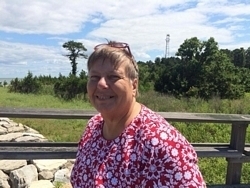 Christina "Tina" Marie Eaton, 61, of Welcome, MD passed away on September 17, 2018 at home surrounded by her loved ones. Born on July 24, 1957 in La Plata, MD to the late Sylvester McCarthy (Chick) Greer and the late Beulah Catherine Greer, she is also preceded in death by her son, Matthew Christopher Eaton; and sisters, Gloria Robertson and Jackie Lancaster. Tina is survived by her loving husband, Gary Michael Eaton; sons, Michael Anthony Eaton and Marshal McCarthy Eaton; brother, Sylvester McCarthy "Mac" Greer; and sisters, Mary "Mickey" Hill and Constance "Connie" Thompson.

Tina was employed by the Charles Co. Sheriff's Office, retiring as a Station Clerk Supervisor. She originated the Waldorf Farmer's Market. Tina took pleasure in playing Pitch on "card game night", farming, cooking and baking. She also liked going to the Charles Co. Fair. Above all, Tina dearly loved spending time with her family and much-loved dog, Dutch.

Friends will be received at Arehart-Echols Funeral Home, PA (211 St. Mary's Ave., La Plata, MD) on Thursday, September 20, 2018 at from 2PM-4PM and from 6PM-8PM; with Prayers at 7:30PM. A Mass of Christian Burial will be held at St. Ignatius Hilltop (6455 Port Tobacco Rd., Port Tobacco, MD) on Friday, September 21, 2018 at 11AM; Interment is private. In lieu of flowers, donations may be made in Tina's memory to Hospice of Charles Co. (2505 Davis Rd., Waldorf, MD 20603).