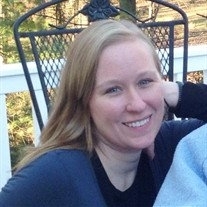 It is with immense sorrow that the family of Amber Rayfield announces her sudden passing on Wednesday, September 5, 2018, at the age of 43. She was born in Washington D.C. on March 19, 1975 and moved to rural Calvert County in 1978. Her creativity, beautifully calm and assured demeanor, quick wit, extraordinary sense of humor, and the ability to make you laugh at something you'd never noticed before, will be deeply missed by all who knew her.

At a very young age her originality, inquisitive mind and exceptional intelligence were unmistakable. Amber was an avid reader and sought to learn as much about the world around her as she could. She became an environmental activist and an advocate for animal rights early in her life. It was because of her devotion to the humane treatment of all living things that she was a steadfast vegan. Amber had a passion for all things vegan; she was the family baker, making the most creative themed birthday cakes complete with action figures, dry ice, motorized vehicles, toy helicopters, and volcanos-to name a few. Her thoughtfulness was ever present, she never missed a loved one's birthday and you hoped she'd draw your name at Christmas, as she chose only the most meaningful gift and card for the special person.

She graduated from Northern High in 1993 and attended community college before joining the Postal Service in 1996. Her career progressed to postal Headquarters, where she worked for the past nine years. Her tenure covered working in operations, supporting the offices of the Deputy Postmaster General, Chief Operating Officer and finally assisting in the office of the Postmaster General. Recently, she earned a bachelors degree in business at UMBC.

Amber is survived by her mother Nina Regan (Dennis), her sister Sheri O'Dell (Jeff), her brother Oliver Rayfield (Kim), nieces and nephews, Chloe, Evan, Dylan, Kaitlyn, and Jordyn. She is also survived by her step-mother Sue Rayfield, her extended family and many dear friends. She was preceded in death by her father David Rayfield.

A Memorial Service for Amber will be held at Chesapeake Church in Huntingtown, MD on Sunday, September 16, from 2 pm until start of the Memorial Services at 3 pm. Because of Amber's love and devotion of all living things, the family asks that in lieu of flowers donations be made in her memory to: Friends of Felines for Calvert County, PO Box 325 Port Republic, MD 20676 or the Chesapeake Cares Food Pantry, 6045 Solomons Island Road, Huntingtown, MD 20639. Arrangements by Lee Funeral Home.