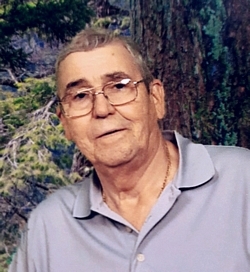 James Bradley "Jimmy" Curtin Jr., 80, of Dunkirk passed away September 4, 2018 at his residence surrounded by family. He was born September 5, 1937 in Washington, D.C., to James Bradley Sr. and Virginia Lee (Hutcheson) Curtin. Jimmy was raised in Upper Marlboro and graduated from Frederick Sasscer High School and later attended Prince George's Community College. Jimmy joined the United States Navy on May 7, 1957 and was honorably discharged March 6, 1961.

He was employed as a mechanic for Pepco before going to work for C&P Telephone Company and later Verizon as a mechanic and fleet supervisor, retiring in 1991. Jimmy was also a full-time farmer on the Curtin family farm. He married Rosemary Curtin December 30, 2006 and they lived in Dunkirk. Jimmy was a member of the American Legion Post 206 in Chesapeake Beach and the Telephone Pioneers of America. In his leisure time he enjoyed traveling, hunting, farming, the Washington Redskins and working with his grandsons and great-grandsons.

Jimmy is survived by his wife Rosemary Curtin of Dunkirk, children Debra Norfolk and husband Paul of Huntingtown, James B. "Brad" Curtin III and wife Kimberly of King George, VA, Karen Hood and husband John of Owings, and Sharon Yatsko and husband John of Smithsburg, MD, stepsons Allan, Richard and Scott Curtin, stepdaughter Nancy Rodriguez, grandchildren Jennifer Sesso, Thomas Lyon Jr., Michelle Buck, John "JD" Hood II, Matthew Yatsko, Andrew Yatsko, Christina "Tina" Hensley, Brad Curtin IV, Jordan Curtin and Joey Curtin, 18 great-grandchildren and sisters Mary Virginia Taylor, Elizabeth Marie Colvin and Kathleen Ann Hamner. He was preceded in death by his brother Bobby Curtin. Arrangements by Rausch Funeral Home.