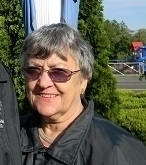 Laura Cecilia Hayden Cusick of Avenue, Maryland passed away peacefully at Charlotte Hall Veteran's Home on September 3, 2018. Born on August 25, 1936 in Abell, Maryland, Laura was the daughter of the late James Elton Hayden, Sr. and Daisy Harden Hayden. She grew up in St. Mary's County, graduated from Margaret Brent High School, moved to Silver Spring, Maryland and was employed by Drug Fair and Peoples Drug Store. Retiring in 1988, she moved back to the "country" and her beloved St. Mary's County.

On May 6, 1961, Laura married the late Walter (Buddy) Cusick at Holy Angels Church in Avenue, Maryland. They celebrated 51 years of marriage before Buddy's passing in 2012. Laura was a devout Catholic for her entire life and very active in her Catholic faith. A parishioner at Holy Angels Parish, she was an "unofficial" church Sacristan, member of Our Lady of Fatima Sodality, and involved with various rosary events, Blessing of the Fleet, and church dinners. In Silver Spring, she was a member of the MaryKnights, the Ladies Auxiliary of the Fr. Rosensteel Council #2169 of the Knights of Columbus. She was also a member of the Catholic Daughters of the Americas and American Legion Post 221 in Avenue, Maryland.

Laura is preceded in death by her parents, and siblings Susan (Polly) Hall, Marie Beavan, Paul Cecil Hayden, Sr., James Elton Hayden, Jr., Louise Wicker and Sadie Anne Clark. She is survived by her sister Joan Hayden Warczynski of Avenue, Maryland and many nieces and nephews, great nieces and nephews, and great great nieces and nephews. Laura was a caregiver to many, and helped with the care of her husband's mother and aunt before their passing. She was always there to help anyone in need and was a quiet, gentle soul who had a good word for everyone.

Laura's family will receive friends at Holy Angels Church in Avenue, Maryland on Monday, September 10, 2018 from 10:00-11:00 am. A Mass of Christian Burial will be celebrated at 11:00 am with Fr. Sam Plummer officiating. Interment will follow at Sacred Heart Cemetery in Bushwood, Maryland. Pallbearers will be George Beavan, James Hayden, John Hayden, Paul Hayden, Norman Stultz, and Martin Warczynski. Memorial contributions may be made to Holy Angels Church, 21340 Colton Point Road, Avenue, MD 20609; Our Lady of Fatima Sodality, PO Box 473, Avenue, MD 20609, or 7th District Volunteer Rescue Squad, 21530 Coltons Point Road, Avenue, MD 20609. Arrangements by Mattingley-Gardiner Funeral Home.