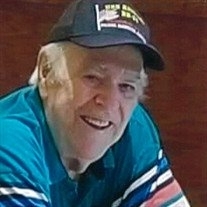 Gary Lynn Pope, age 79, of White Plains, Maryland, died September 1, 2018, surrounded by loved ones. In his younger days, Gary was a P.E. Teacher and loved coaching youth sports. He lived his life with strong moral guidelines and was most happy when surrounded by his family. He was the son of Riley Paul Pope and Carrie Rena Chenault Pope. In addition to his parents, he is also predeceased by his brothers, Paul and Billy, his step-daughter, Brenda, and his granddaughter, Kara.

He is survived by his wife of 55 years, Shirley Ann Bryant Pope; his children, Darryl (Nancy), Wendy (Nelson), Shannon (Carolyn); his step-son, Donny; his sister, Barbara; his grandchildren (he was known as "Papy"), Christine, Joshua, Chris, Samuel, Shaun Richard, D.J, and Steven; and his great grandchildren, Aliyana, Esteban, Liam, Cora, Baylee, and Aleigh.

Friends received on Saturday, September 8, 2018 from 11AM until time of Funeral Service at 12PM at First Baptist Church of Waldorf, 10045 Bunker Hill Road, Waldorf, Maryland 20603, officiated by Rev. Wayne Kempson. Interment will be private at a later date. Memorials in Gary's name are asked to Samaritans Purse, PO Box 3000, Boone, North Carolina 28607. Arrangements by Raymond Funeral Service.