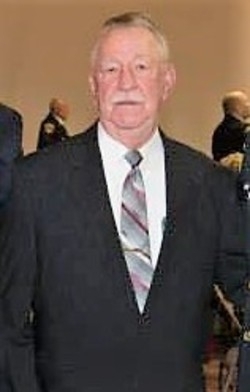 Robert Louis "Bob" Brady, 80, of Mechanicsville, MD passed away Wednesday, August 29, 2018, at MedStar Washington Hospital Center in Washington, D.C. He was born on December 4, 1937, in Washington, D.C. to the late Albert Norris Brady and Emma Louise Grimley Brady. He was a life member of Hillside Volunteer Fire Department and also a member of the Patuxent Moose Lodge.

Bob is a 1955 graduate of Suitland High School. He met his wife when he was just twelve-years-old, and they were playmates until after high school. On April 11, 1959, he married his beloved wife, Margaret Ann Kidwell Brady, at Washington Baptist Church in Washington, D.C. Together, they celebrated over 59 wonderful years of marriage. He was employed by the Architect of the Capitol for over 30 dedicated years and was the manager of the plumbing and heating division. He retired in 1995 and then worked part-time for True Value/Ace Hardware in Leonardtown, MD, for many years.

As a young man, he played guitar in a band with his brothers in Bladensburg. He was athletic and liked to roller skate, played baseball, and was an avid league bowler with his wife. When his children were growing up, they went camping every weekend at Shawnee Land in Winchester, VA. After they were grown, he enjoyed taking his grandchildren camping. He had a love for spending time on the water on his boat, the "Peggy B," and going fishing. As a loyal NASCAR fan, he enjoyed watching the races, especially Mark Martin until he retired. He was a regular MacGyver and could fix just about anything. His family was his greatest love. He enjoyed spending as much time as possible with all of them, he was a great supporter of education, and making sure his grandchildren were successful in life. He taught them a lot about history, the importance of good work ethics, and maintaining positive relationships at work and with family.

In addition to his beloved wife, Bob is also survived by his children: Dennis P. Brady, Sr. (Lynn) of Hollywood, MD and Susan C. Mileto (Louis) of Leonardtown, MD; his siblings: Albert William "Billy" Brady (Cornelia Ann) of Dentsville, MD, John Brady, Sr. of North Beach, MD, June McGarvey (Harry) of Dunkirk, MD, and Patricia Dennis (Paul) of Chesapeake Beach, MD; his grandchildren: Tiffany M. Barthelme (Bryan), Dennis P. "D.J." Brady, Jr. (Sara), Richard D. "Rick" Brady (Alicia) of Hollywood, MD, Arley A. Mileto of Salt Lake City, Utah, David L. Mileto, of Leonardtown, MD, and Lindsey A. Mileto, of Alexandria,VA; his great-grandchildren: Jenna Long, Eric Long, Harper Barthelme, Blake Brady, Trent Brady, Tyler Brady, and Taylor Brady; and many extended family and friends. In addition to his parents, he is also preceded in death by his sisters: Anna Mae Weimer and Peggy Porth.

Family will receive friends on Thursday, September 6, 2018, from 4-5:30 p.m., with funeral service at 5:30 p.m., at Brinsfield Funeral Home, P.A., 22955 Hollywood Road, Leonardtown, MD 20650. Memorial contributions may be made to the Hollywood Volunteer Fire Department, P.O. Box 7, Hollywood, MD 20636. Arrangements by the Brinsfield Funeral Home, P.A.