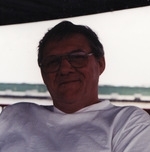 Robert Wayne Carpenter, "Bob, Pops, & Pop Pop", 70, passed away on August 30, 2018 in Baltimore, MD. Born on October 16, 1947 in Portland, Maine he was the son the late Evelyn Enman Carpenter and Ralph Stanley Carpenter. Bob was the loving husband of Shirley Carpenter whom he married on May 31, 1970 in Rockville, MD. Bob was married to Shirley for a wonderful 48 years. He was a devoted, loving husband, father, grandfather, and great grandfather. He will be dearly missed.

Bob is survived by his children; Tracy A. Carpenter (Michelle) of Valley Lee, MD., Curtis W. Carpenter of Mechanicsville, MD., Sheryl R. Carpenter (Fiancé Kurt) of Denver, CO. 3 grandchildren and 1 great grandchild. Siblings; Charles Carpenter, Suzie Stevens, and Lola Black. He was preceded in death by his siblings; Patricia Jacques, Shane Dudley, Ricky Dudley, and Mark Dudley.

He graduated from Cole Brown Academy in 1966. Bob served in the United States Army from 1967 to 1970. While serving in the United States Army, he earned the Vietnam Service Medal, Republic Vietnam Campaign Medal W/Devie 1960; Expert (M-14 Rifle). He moved from Hyattsville, MD to St. Mary's County, MD in 1988. Bob was a Contract Inspector for 35 years retiring in 2003. In addition, he worked for MetComm for 6 years until 2012. Bob loved fishing, antiquing, horseshoes, watching old westerns, lottery, and most of all he enjoyed time with his family.

The family will receive friends on Wednesday, September 5, 2018 from 5:00 PM to 8:00 PM with prayers recited at 7:00 PM in the Mattingley-Gardiner Funeral Home, Leonardtown, MD where a Funeral Service will be held on Thursday, September 6, 2018 at 10:00 AM in the Funeral Home Chapel with Bishop William McClean officiating. Interment will follow in Queen of Peace Catholic Cemetery Helen, MD. Pallbearers will be; Tracy A. Carpenter, Curtis W. Carpenter, Kurt J. Eichenberger, Jesse Gross, Chad Barnett and Darian West. Honorary Pallbearers will be Michael Boyd, Samantha Lyon-Carpenter, Aaralynine Jerome, Aaden Jerome, and Amir Neale.