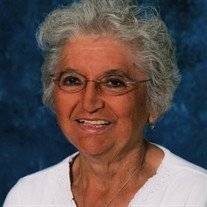 Rosario Mercedes Cortes Norambuena Valdes, 90, of Huntingtown, Maryland passed away peacefully August 29, 2018, with her loving family by her side. She was born in Talca, Chile to the late Samuel Norambuena and Carolina Norambuena Valdes. Rosario was the loving mother of Elizabeth P. Gaither, sister to Maria Raquel Mendoza, and sister in-law to Ines Jara Cortez (the late Emilio Rojas) and nephews, and Francisco Javier Jara (Aurora Diaz) and nephews.

Rosario is preceded in death by her parents, brothers; Oscar and Reinaldo, and son in-law; Edward M. Gaither. Rosario will also be remembered by her late son in-law's family; Sheila and Robert Vaughan, Amy and Jason Abell, Julia, JJ, Robert F. Jr, Pam and Robert Gaither, Mary Ellen, Joseph Bayne, Brian, Kevin, Bethany, Jordyn, and Robert Bayne.

A viewing will be held Thursday, September 6, 2018, from 6 PM- 8 PM at Lee Funeral Home, Calvert P.A. 8200 Jennifer Lane, Owings, MD, 20736, and Friday, September 7, 2018, at Jesus the Divine Word Catholic Church, 885 Cox Road, Huntingtown, MD, 20639 from 10 AM to 11 AM with a Mass of a Christian Burial immediately following. Burial will take place on Monday, September 10, 2018, at 11 AM at Gate of Heaven Cemetery, 13801 Georgia Avenue, Silver Spring, MD, 20906. Memorial contributions may be made in Rosario's name to Jesus the Divine Word Catholic Church.