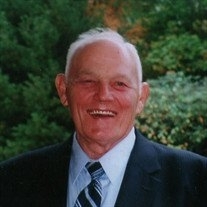 It is with extremely heavy hearts and great sadness that the family of Frank "Wendell" Helms of Huntingtown, MD announce his passing on Friday, August 31, 2018 at the age of 83. Wendell passed away peacefully with his beloved son Robert by his side at the Burnett Calvert Hospice House. He was born on July 4, 1935 in Willis, VA to Vivian (Sowers) and Frank Vincent Helms.

Wendell's father passed away when he was only 15 years old. Wendell would travel to Maryland with his uncle Ham Helms each summer to work at his sawmill and help provide for his mother and younger siblings. Wendell graduated from Willis High School in 1954. After graduation, he worked at General Motors in Wilmington, DE, a pipe shop in Radford, VA, and for John Waitman "Wait" Conner at the Virginia Lumber Company in Maryland.

He was inducted into the United States Army on October 27, 1958 where he proudly served his country. On February 4, 1961, at the age of 25, he married his true love Sandra Faye Bolt. In 1966 he partnered with Walter "Tex" Conner, Robert "Bud" Conner, and Vernon "Teen" Harris to establish and become owners of T&T Lumber Company in Prince Frederick, MD where he worked many tireless hours as one of the best sawyers around. After retirement in 2001, he spent his time enjoying his family, especially his two grandchildren, whom he adored, and tinkering on his antique car and truck.

Wendell is survived by his son Robert Helms and wife Trish of Prince Frederick, two grandchildren; Robbie Helms and wife Kelci of Huntingtown, and Lauren Helms of Prince Frederick, one brother Norman "Edsel" Helms and wife Jackie of Lynch Station, VA, three sisters; Rosa Lee Bolt and husband Ward of Willis VA, Joyce Thompson of Christiansburg, VA, and Margarette Dobbins and husband Donald of Radford, VA, numerous nieces and nephews, cousins, and very special friends; Walter "Tex" Conner and wife Lois, and Robert "Bud" Conner and wife Darlene. Wendell is preceded in death by his beloved wife of 52 years Sandra Faye Bolt Helms, his parents Frank and Vivian Helms, and his brother-in-law Ronald J. Thompson.

Pall bearers for Wendell's services are his son Robert, grandson Robbie, and his nephews; Dwayne Bolt, Terry Bolt, Neil Bolt, and Greg Dobbins. Honorary Pallbearers are Walter "Tex" Conner, Robert "Bud" Conner, and Bryan Gatton Sr. We would like to extend our appreciation and heartfelt gratitude to all of the caretakers from the Hermitage and Burnett Calvert Hospice House who loved and cared for Pop Pop. Memorial contributions may be made in Wendell's name to Burnett Calvert Hospice House 4559 Sixes Road, Prince Frederick, MD 20678. Arrangements by Lee Funeral Home.