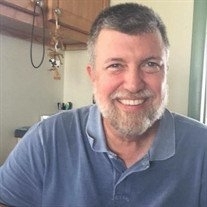 Scott Christopher Logue, age 52, of La Plata, Maryland, died August 27, 2018 at the Charles County Hospice House in Waldorf, Maryland due to complications of ALS. Scott was a Network Engineer with the WHCA (White House Communication Agency) and a Veteran of the United States Air Force. He was also a member of the American Legion. He loved coaching soccer and was an umpire and Board Member of the Waldorf Little League. He was a Trustee with Good Shepherd United Methodist Church in Waldorf, Maryland and a Christmas in April volunteer. He also loved golfing, hunting, and fishing.

He was the son of Scott Leigh Logue and Joyce Laurinda Pedrick Todd, and her husband Ralph). In addition to his parents, he is also survived by his wife of 11 years, Jody Logue; his sons, Scott Logue, Alex Catterton, and Gabriel Catterton; his daughters, Amber Logue, Taylor Logue, and Kaitlyn Catterton; his step-brother, Charlie Todd; his sister, Sherri Schrijver; and his niece, Makenzie Schrijver. He is also survived by numerous family and friends.

Friends received on Friday, August 31, 2018 from 5-8PM with American Legion Service at 7PM at Good Shepherd United Methodist Church, 305 East Smallwood Drive, Waldorf, Maryland 20602 and where Funeral Service will be held on Saturday, September 1, 2018 at 11AM. Interment will be private. Memorial contributions in Scott's name are asked to the Waldorf Little League, ALS Association, Independence Fund, or Good Shepherd United Methodist Church. Arrangements by Raymond Funeral Service.