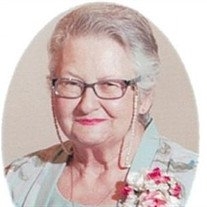 Helen Louise Hamor, 80, died on August 20, 2018 at her residence. She was a cashier for 12 years at K-Mart in California, Maryland. She enjoyed reading the Bible and watching her grandchildren. She also enjoyed visiting with friends and sending out birthday & Christmas cards. She was a dedicated church member, choir member, and Vacation Bible School Director at Nanjemoy Baptist Church in Nanjemoy, Maryland.

She was daughter of the late Grover Cleveland Davis and the late Lillian Gertrude Posey Davis. In addition to her parents, Helen was preceded in death by her husband, Hoyt Herman Hamor, Sr.; sister, Dorothy duMas; and grandchild, Katie Lynn Neal. She is survived by her children, Sharon L. Frost and her husband, Dennis, Hoyt H. Hamor, Jr. and his wife, Robin, Bonnie S. Neal, and Rebecca D. Davis and her husband Nick; her brother, Donald Davis and his wife, Kathy; sisters-in-law, Marie Corley and Patricia Bowie and her husband, Thomas; her niece, Dolores Bulles and her husband, Andy; eight grandchildren; eight great-grandchildren; and numerous nieces, nephews and cousins.

Friends received on Monday, August 27, 2018 from 2:00pm to 4:00pm and 6:00pm to 8:00pm, with Prayer Service at 7:00pm, at Raymond Funeral Chapel, 5635 Washington Ave, La Plata, Maryland 20646. An additional Viewing will be held on Tuesday, August 28, 2018 from 10:00am until time of Funeral Service at 11:00am at Nanjemoy Baptist Church, 3030 Baptist Church Road, Nanjemoy, MD 20662. Interment to follow at Nanjemoy Baptist Church Cemetery. Memorial contributions in Helen's name may be sent to Nanjemoy Baptist Church, 3030 Baptist Church Road, Nanjemoy, MD 20662.