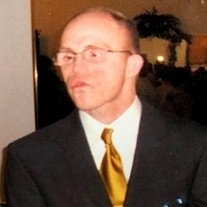 David Noel Hanton, age, 65, of Port Tobacco, MD died on August 19, 2018 at his home peacefully surrounded by his caregivers and friends. David was born December 31, 1953 in Bethesda, MD to John Hanton and Phyllis Cuddeback. He was a resident of Charles County HARC and an active participant with Sage Point Medical Day Care. David previously attended Melwood's Personal Enrichment Program. While there he loved making arts and crafts, painting and gardening.

David loved spending time with his friends. He enjoyed going to see action movies, especially spiderman. His favorite football team was the Washington Redskins. When healthier, he would enjoy trips with Access Adventures to enjoy horseback riding and fishing. He loved basketball and going to special population dances and participating in special Olympics bowling.

A gathering on Monday, August 27, 2018 from 11:00 to 11:30 am until time for a memorial service to begin at 11:30 at Raymond's Funeral Services, P.A. 5635 Washington Avenue La Plata, MD 20646. Interment will follow immediately at 12:30 pm at Trinity Memorial Gardens in Waldorf, MD.