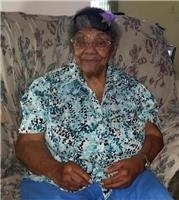 Mary Evelyn Dyson, 91, of Mechanicsville, MD, known as "Toots" to many, departed this life on August 19, 2018 at her home in Mechanicsville, MD. She was born on July 4, 1927 in Oraville, MD to the late Joseph Hilary and Mary Violet Yorkshire.

She was raised, educated, and lived in Mechanicsville (Oraville) all of her life, where she provided for the family as a homemaker and wife. In addition to her own children, she helped to raise her nieces, nephews, grandchildren, great grandchildren, great nieces and great nephews. Toots loved the Lord and had a servant's heart. Although she had her own house nearby, she continued to live with and take care of her parents for numerous years until their heavenly departures.

Toots loved to sing and dance, and most of all to laugh. She also loved jewelry and to polish her nails, but always kept it modest and classy. If you ever visited, she loved to hear about the good things happening in your life. You could expect a good story or two and sharing many laughs. You could not escape without being egged towards some playful mischief. We would be remiss if we didn't mention her second marriage...to her beloved Redskins, whom she faithfully watched and supported; for better or worse.

A true woman of faith, she was an angel on earth. She was giving, caring, and always grateful for her blessings. Toots was a truly selfless soul, always concerned with the well-being of others. She had a special place in her heart for kids. Simply put, she was a gift from God to us all.

Toots was preceded in death by her husband, Raymond Leroy Dyson; son, Thomas Leroy Dyson; brothers, William, Paul, James, Joseph, Edward and Charles Henry Yorkshire; sisters, Agnes King and Hazel Everett.

She leaves to cherish her sweet memories her daughter, Mary Ann Briscoe (John), of Mechanicsville, MD; siblings, Daniel and John Yorkshire, of Baltimore, MD; her nephew, Timothy Yorkshire, of Mechanicsville, MD, grandchildren, great grandchildren, as well as other nieces, nephews, other relatives and friends.

Family and friends will unite on Monday, August 27, 2018 for Mass of Christian Burial at 11:00 a.m. at Immaculate Conception Catholic Church, 28297 Old Village Rd, Mechanicsville, MD. Interment will be private. Arrangements by Briscoe-Tonic Funeral Home.