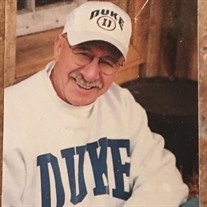 Raymond Clement "Ray" Island, age 86, of Port Tobacco, Maryland died August 22, 2018 at his residence. Ray was a veteran of the United States Army and a member of St. Catherine's Catholic Church in McConchie, Maryland.

He is also a retired Warehouse Manager with Montgomery Ward Stores with 20 plus years of service. He was a past president of the Waldorf Boys Club and coached youth football. He was a long-time member of the American Legion Post in La Plata, Maryland. He loved golfing, dancing and Duke basketball. He was also known for his great smile, loved his time with his grandkids, and being with his family.

He is survived by his wife of 61 years, Peggy Ann Turner Island; his sons, Ray Duke Island, Guy Sven Island, Shawn Troy Island (Amy), and Luis Travis Island; his sister, Gloria Holcomb; his grandchildren, Krystle, Peyton, McKenzie, Christopher, and Hunter; and his great-grandchild, Anthony. Arrangements by Raymond Funeral Service.