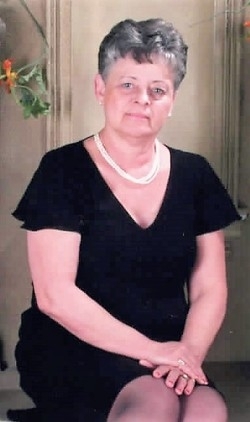 Goldie Christine "Susie" Woodburn, 69, of Hollywood, MD passed away Sunday, August 19, 2018 at her home surrounded by her loving family. She was born on January 19, 1949 in Kitzmiller, MD to the late Alvin Tasker and Ann Hope Clark Abell.

Susie is a lifelong resident of St. Mary's County. She was employed as an administrative clerk for many dedicated years with Willow Medical Supply until her retirement. She also was a compassionate and loving home healthcare provider for many of her family and friends. She enjoyed taking vacations with her family, especially cruises. She also enjoyed going with her grandchildren to amusement parks. She was a long-time fan of Days of Our Lives, her favorite movie was Dirty Dancing, and her favorite musician was Elvis Presley. She made delicious chicken and dumplings. She was an animal lover, especially her miniature pinscher, Hope. Her family was her greatest love and she enjoyed spending her time with them.

Susie is survived by her daughters, Melissa Mattingly of Hollywood, MD and Tina Woodburn of Avenue, MD; her siblings: Mary Ann Yount (Jeff) of Mechanicsville, MD, Rose Gatton (Danny) of Hollywood, MD, Joseph "J.B." Abell (Donna) of Leonardtown, MD, Randy Abell (Joanne) of Hollywood, MD, Robert Abell (Vicky) of Hollywood, MD; her sister-in-law, Denise Abell of Mechanicsville, MD; her grandchildren: Chelsea, Devin, Brandi, Ashley, Johnny, Shane, Jamie, Kayla, Lacey; and 12 great grandchildren. In addition to her parents she is also preceded in death by her grandson, James Anthony "Little Tony" Tippett and her brother, James W. "Jimmy" Abell.

In lieu of flowers please make donations to Hospice of St. Mary's, Inc. P.O. Box 625, Leonardtown, MD 20650. All services are private. Arrangements by the Brinsfield Funeral Home, P.A.