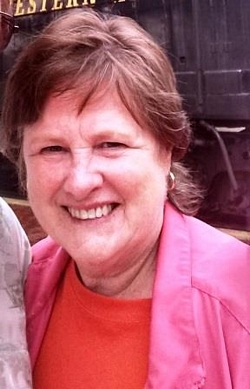 Helen M. Moran, 69, of Lusby, MD died on Sunday, August 19, 2018 while in the care of excellent Johns Hopkins nurses, physicians, and staff in Baltimore, MD. Helen was born on October 25, 1948 in Elizabethtown, NC. The daughter of M. Ursula (Stevens) and Archie V. McDonald, she was affectionately known as "Doodie."

Helen graduated from Tar Heel High School, Tobermory, NC where she drove the school bus and played guard for the mighty, mighty Panther basketball team. Helen was a remarkable book keeper and typist and earned the opportunity to move to the nation's capital working for the Federal Bureau of Investigation. Most of her employed life was spent as a contractor for the Department of Defense at the Naval Base in Solomons, MD where she began as a secretary and continued advancement into management. While raising four children and working full-time, Helen also graduated from the College of Southern Maryland (formerly CCCC) as an Accounting Associate.

Helen enjoyed riding bicycles, going to "have a look," or just "riding across the bridge" with her best friend and husband, Bob. She loved to dig in the dirt, especially with her grandchildren. She was forever beautifying her surroundings with growing things or pulling weeds, physically or metaphorically. An avid bargain hunter, Helen loved to shop sales, clearances, yard sales, and thrift shops. She supported the mission of SMILE, Inc., Solomons, MD, a faith based community outreach food pantry and thrift shop.

Helen's faith was stretched and grown throughout her life and she responded in service to the Methodist Church. At St. Paul UMC, Helen spent many Saturdays at the typewriter and mimeograph preparing bulletins for the Sunday service. Later she joined the Olivet United Methodist Church congregation where she attended and served in numerous capacities from administration to grounds keeping, or anything else that "needed doing," until her passing to eternity.

Helen is survived by her husband, C. Robert "Bobby" Moran, his daughter Kristin (Mike) Britt of Hollywood, MD, her children, Melissa (Kenneth) Goad of Noblesville, IN, Janel Baki (Danny Guidotti) of Port Republic, MD, Jon C. Baki II (Kristy Travis) of Annapolis, MD, Leslie (Joshua) Ellis of Huntingtown, MD. She is also survived by nine grandchildren: Ryan Britt; Gregory, Ginevra, and Finnegan Goad; Gabriel and Maxwel Guidotti; Tyler, Joseph, and Jacob Ellis. Also surviving are her brother, Archie "Hooker" (Mary) McDonald of St. Pauls, NC and sister, M. Carol "Sis" (David) Mincin of Jarrettsville, MD, many nieces and extended family and friends. Helen was preceded in death by her parents, her sister Mary Shaw "Peetnin" Zurlo, and her granddaughter, McKenna A. Goad.

The family would like to take this opportunity to thank the medical professionals at Johns Hopkins and Calvert Memorial hospitals for their devoted care of this dear woman. We are also unspeakably grateful for the spiritual care of Pastor Linda Motter, Olivet United Methodist Church. A graveside service will be held at Olivet United Methodist Cemetery to begin at 1pm, Thursday, August 23, 2018 with Reverend Linda Motter presiding. Contributions in honor of Helen Moran may be made to St. Jude's Children's Cancer Research or Olivet United Methodist Church. Arrangements by Rausch Funeral Home.