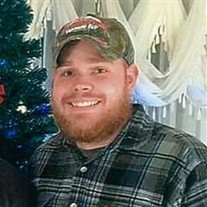 Joshua Mark "Josh" Vinson, age 30, of Waldorf, Maryland, died August 17, 2018 at the University of Maryland Hospital in Baltimore City, Maryland. Josh was a truck driver for Celtic Demolition Company in Forestville, Maryland. He was a member of Southern Maryland BMX who enjoyed hunting, fishing, motorcycle riding, and dirt bikes. He loved time with his friends and family, especially being with his kids and wife.

He was the son of Charles C. Vinson, Sr. and Kathleen M. Vinson. In addition to his father, he was also predeceased by his son, Hunter C. Vinson and his brother, Charles C. Vinson, Jr. In addition to his mother, he is also survived by his wife, Holly Toder Vinson; his son, Allen P. Toder and daughter, Ryelynn M. Vinson; his brothers, Jason M. Johnson (Cynthia) and Jodie M. Johnson; and his brother-in-law, David A. Toder.

Friends received on Thursday, August 23, 2018 from 5-8PM and where Funeral Service will be held on Friday, August 24, 2018 at 11AM at Raymond Funeral Service Chapel, 5635 Washington Avenue, La Plata, Maryland 20646. Interment at St. Ignatius Church Cemetery (Hilltop). Memorials in Josh's name (to benefit his children) are asked to Southern Maryland BMX, PO Box 40, Chaptico, Maryland 20621.