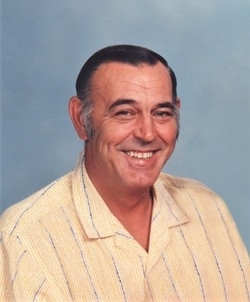 James Allen "Jim" McFadden, 83, of Leonardtown, MD passed away Tuesday, August 14, 2018 at Levindale Specialty Hospital in Baltimore, MD, with his loving family at his side. He was born on July 25, 1935 in Pittsburgh, PA to the late James Jerome McFadden and Elizabeth Allen. In August 1952, Jim enlisted in the United States Navy and proudly served his country until his honorable discharge in April 1962. During his career he sailed extensively around the world.

On November 5, 1960 he married his beloved wife, Dorothy Elizabeth McFadden in La Plata, MD. Together they celebrated over 57 wonderful years of marriage. After leaving the military, he worked for the Navy Resales System as a J3 Complex Manager for the Naval District of Washington. After retiring he worked for many years in the Auto Industry. He was an avid golfer and also enjoyed playing softball. His family was his greatest love, and he enjoyed time spent with them. He was a member of St. Francis Xavier Catholic Church.

In addition to his beloved wife, Jim is also survived by his children: Maureen McFadden of Leonardtown, MD, Colleen Ryan (Paul) of Cedar Hill, TX, and James McFadden Jr. of Leonardtown, MD; his sister, Kathleen Mauro of San Mateo, CA; his grandchildren: Linsey McFadden (Adrian Alfonso) of London, England, Justin Ryan, Maura Ryan, and Ryan Marquiss of Hagerstown, MD; and many extended family and friends. In addition to his parents, he is also preceded in death by his siblings: Mary Lou Di Pofi, Joanne Crowe, Billy Hughes, and Dennis Hughes.

Family will receive friends on Thursday, August 23, 2018 from 5:00 to 8:00 p.m., with Prayers recited at 7:00 p.m., at Brinsfield Funeral Home, Leonardtown, MD 20650. A Mass of Christian Burial will be celebrated by Reverend Brian Sanderfoot on Thursday, August 24, 2018 at 11:00 a.m. at St. Francis Xavier Church, 21370 Newtowne Neck Road, Leonardtown, MD 20650. Interment will follow in the church cemetery.

Serving as pallbearers will be Tracy Mattingly, Timmy Mattingly, Glen Mattingly, Donald Mattingly, Allen McFadden and Paul Ryan. Memorial contributions may be made to St. Francis Xavier Catholic Church Manor House Restoration Fund, 21370 Newtowne Neck Road, Leonardtown, MD. Arrangements by the Brinsfield Funeral Home, P.A.