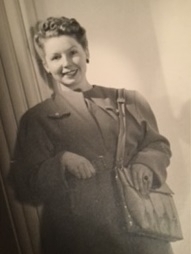 Corliss Winston Ross of La Plata, MD passed away on August 15th peacefully in her sleep. She was born in Prosser, Washington (Horse Heaven Hills) to William and Goldie Clark.

Corliss was married four times and out lived all four husbands. The "Love of her Life", Don Ross passed in 1993. Corliss was very small in stature and Don was 6'4". He liked to tell everyone that she was really "6' tall, but she is just wound up real tight!".

Corliss had "jackrabbits in her boots". Throughout her life she moved around the Pacific Northwest (Oregon, Washington, California), Illinois and the Southwest (Phoenix, Apache Junction, Scottsdale Arizona as well as Fort Worth, Texas). She moved to La Plata in 2003 to be near her daughter and son.

She prided herself on the fact that she never drank or smoked. She loved chocolate, dancing, clipping articles from newspapers & magazines to include in her handwritten letters, talking to strangers, laughing, trees without leaves on them and the desert. Corliss was a Jehovah's Witness. She was very active in her Vancouver, WA congregation and attended the Kingdom Hall in La Plata until her health declined and her dementia began to set in.

She is preceded in death by her parents, her younger sister Phyllis who she adored, recently by her grandson Corey, her infant grandaughter, Nissa Lynn (Burnett) 1962 and daughter-in-law Linda (Kunsman). Corliss is survived by her three children; daughter CL Porter (Ron Mellott) of La Plata, MD, sons Larry Peterson of La Plata, MD and William Kunsman, of Vancouver, WA , grandchildren Chelsea (Peter) Weiss; William (Mary Ann) Kunsman Jr.; step grandchildren Mark & Mindy Mellott, niece, Laura Oakes and four great grandchildren, Gage, Jarec, and Taven Kunsman and Lily Mellott.

At her request, she will be cremated and forego any farewell services.