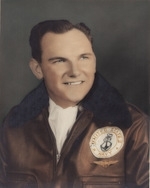 James (Jim) Beane of Bushwood, MD passed away on August 16, 2018. Jim was born in Baton, North Carolina (Caldwell County). He was the son of the late Clara May Honeycutt Beane and Ransom Jones Beane. Jim is survived by his loving wife Rita Faye Smith Beane of fifty seven years and one son, D. Lynn Beane (Mary Ellen) of Helena, AL. As well as, his siblings; Bill Beane (Sandra) of Hudson, N.C., Laura Melvin of Granite Falls, N.C. He was preceded in death by his siblings; Margie White, Carolyn Sullivan, Helen Wesson, Judy Suddreth and Jewel Sullivan.

Jim served eight and one half years in the Navy with four and one half years in Hawaii and four years in Washington, DC. (Andrews Air Force Base). While stationed in Washington, he was an Honor Guard in participation on the 25th. Day of November 1963 in the funeral procession of the late President John F. Kennedy and marched in front of the caisson from the Capital to St. Matthews Cathedral and then to Arlington National Cemetery. When General Douglas MacArthur passed away he also served as Honor Guard at his funeral. He was also Honor Guard on the 20th. Day of January 1965 in the Presidential Inauguration of Lyndon Baines Johnson. Jim was a member of the Seventh District Optimist Club of Avenue, MD and the American Legion (VFW) Post 221 of Avenue, MD.

The family will receive friends on Monday, August 20, 2018 from 2:00 PM to 3:00 PM in the Mattingley-Gardiner Funeral Home, P.A. Leonardtown, MD. Where a Funeral Service will follow at 3:00 PM in the Funeral Home Chapel with Father Francis Early officiating. Interment will be private. Contributions may be made to Hospice of St. Mary's P.O. Box 625 Leonardtown, MD, Seventh District Optimist Club P.O. Box 53 Bushwood, MD 20618, and American Legion Post 221 21690 Colton's Point Road Avenue, MD 20609.