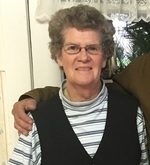 Mary Catherine (Adams) Edwards, 74, of Drayden, MD, passed away on August 15, 2018 at Hospice House in Callaway, MD. Mary was born on March 2, 1944 in Drayden, MD, to Charles and Dora Adams. She is survived by her husband, Luther "Bubby" Edwards, and two sons, Dennis Lee Edwards of St Georges Island, MD and Brian Keith Edwards (Vilma) of Herndon, VA. She was also the proud grandmother of three granddaughters, Brianna and Madeline Edwards of Herndon, VA & Lenore Edwards of Hughsville, MD.

In addition, Mary is survived by her mother, Dora Adams, and ten siblings: Nancy (James) Schmidt of Aldie, VA, Barbara (Randy) McDonnell of Herndon, VA, Robert (Sandy) Adams of Valley Lee, MD, John (Chris) Adams of Drayden, MD, Patrick (Garnette) Adams of Ridge, MD, Michael (Betty) Adams & Daniel (Chantal) Adams, both of Valley Lee, MD, Sharon (Harvey) Yee of Chicago, IL, Annette Adams of Valley Lee, MD and Lisa (Kevin) Squires of California, MD. She is remembered by many nieces and nephews. Mary was predeceased by her father, Charles Adams Sr. and brother Charles Adams Jr.

Mary graduated from St Michael High School in 1962. She owned and operated several school buses for 35 years and was well-known as President of the St Mary's School Bus Contractors Association for a number of terms. She enjoyed walking and her home on the water and made the best soft crab sandwich and fried oysters in the county!

Family will receive friends on Monday, August 20, from 2 p.m. to 4 p.m. with a prayer service at 3 p.m. at Mattingly Funeral Home in Leonardtown, MD. A Memorial Mass in Mary's name with Father Paul D. Nguyen officiating will be held on Saturday, September 8, 2018, at 11 a.m. at St Georges Catholic Church, Valley Lee, MD, where Mary was a lifelong member. No flowers please. Memorial donations can be made to Hospice House in Callaway, MD P.O. Box 625 Leonardtown, MD 20650.