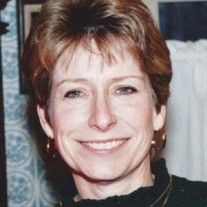 Noreen Egan Stedman, 69, of Dunkirk, Maryland passed away peacefully at home surrounded by loved ones on 8/16/2018. Noreen was born in Washington, D.C., to the late Denise and Donald Egan and was the oldest of eight siblings. Noreen graduated from St. Mary's Academy High School in Alexandria, Virginia, in 1967 and the University of Maryland in 1971.

Noreen met her future husband, Scott Stedman, on a blind date in 1968. Noreen and Scott married in 1970 and moved to Calvert County in 1973, where they set the foundation of their lives and started a family a few years later. Noreen and a few friends opened an aerobics company, Calvert Fitness, in 1982, the first of its kind in the small but growing Calvert County. Noreen was also a devoted member of the Catholic Church and a founding member of Jesus the Good Shepherd parish in Owings, Maryland. Noreen will be remembered as a tireless volunteer to her community and church.

Noreen is survived by Michael P (Scott) Stedman, husband of 48 years, Son; Michael J Stedman (Nikki Miller), Daughter; Laura Handle (Dave), Grandchildren; Dominic Stedman, William Handle, Norah Handle, Logan Stedman, Sisters; Carol Shutt, Cathy L'Abbe, Patty Hlavinka, Mary Howard, Beth Potts, Annie Barlow. She was preceded in death by her parents; Donald and Denise Egan and brother; Donald Egan Jr.

A viewing will be held on Monday, August 20, 2018 at 10 AM with a Mass of a Christian Burial to follow at 11 AM at Jesus the Good Shepherd Catholic Church 1601 W. Mt. Harmony Rd, Owings MD 20736. In lieu of flowers, please consider a donation to the Alzheimer's Association of Greater Maryland. Arrangements by Lee Funeral Home.