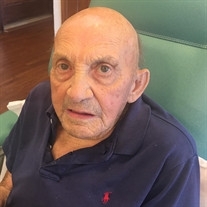 Leroy T. Burch, 84, passed away surrounded by family on August 14, 2018 at his home in Bushwood, Maryland. Mr. Burch was born on June 16, 1934 in Hughesville, Maryland to the late George W. Burch and Mary Margaret Burch. Mr. Burch served over thirty years in the government. In his free time, Leroy enjoyed hunting, fishing, and gardening, his tomato plants to be specific.

In addition to his parents, he was preceded in death by his brothers William Burch, Jimmy Burch, George Burch, and Robert Burch; his sister Agnes Lehman; his son Mark C. Burch. He is survived by his brother James H. Burch; sister-in-law Annette Burch and niece Stephanie Williams; along with numerous grandchildren and great grandchildren.

Visitation will be held on Monday, August 20, 2018 from 6PM to 8PM at Raymond Funeral Service, P.A. 5635 Washington Avenue La Plata, Maryland 20646 where Funeral Services will be held on Tuesday, August 21, 2018 beginning at 11AM. Interment to follow at Heritage Memorial Cemetery in Waldorf, Maryland. Memorial contributions may be made to Hospice of St. Mary's County, 44724 Hospice Lane, Callaway, Maryland 20620.