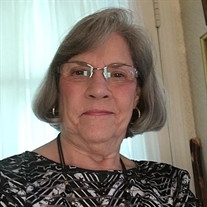 Lydia Jolene "Jo" Hobbs, 79, of Pomfret, Maryland, died on August 14, 2018 at Charles County Hospice House. She was a graduate of Sylva High School in Sylva, North Carolina, and a 1997 graduate of Charles County Community College, now known as College of Southern Maryland, with an AA degree. She was a member of Christ Church Port Tobacco Parish in La Plata, Maryland, and was also involved with the Mattawoman Art Center and the La Plata Senior Center. In her early work years, she worked for C&P Telephone Company of Maryland, later, worked as a substitute teacher and finally, worked at the regional library in Charlotte Hall, Maryland.

She was daughter of the late Jack Finley Cooper and the late Merle Dolly Parker. In addition to her parents, Lydia was preceded in death by two brothers, the late Rev. J. Finley Cooper, and the late John R. Cooper. She is survived by her husband of 59 years, Stewart W. Hobbs; two sons, Ret. MSGT Stewart W. Hobbs, Jr. and his wife, Kimberly, and J. David Hobbs; beloved companion, Lisa Hensley; one brother, Ronald A. Cooper; and one sister, Brenda Gail Crissinger. Also survived by three grandchildren, Krysten R. Hobbs, Gregory W. Hobbs, and Madelynne J. Hobbs.

Friends received on Saturday, August 25, 2018 from 10:00 AM until time of Funeral Service at 11:00 AM at Christ Episcopal Church, 112 Charles Street, La Plata, MD 20646. Officiated by Rev. Kate Heichler and Rev. Tim Johnson. Interment to follow in Mount Rest Cemetery, La Plata, MD. Memorials in Jo's name are asked to Hospice of Charles County, 2505 Davis Road, Waldorf, MD 20603. Arrangements by Raymond funeral Service.