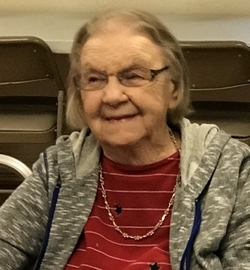 Edith Lorraine Bowen, 89, of Prince Frederick, MD died August 11, 2018 in the presence of family. She was born September 21, 1928 in Broomes Island, MD to Thomas George Parks and Annie Rebecca Denton. They lived in Broomes Island where she was raised to have a strong belief and worship in God and rejoice in songs of faith. She left school at an early age to work in her Aunt Lorena Denton's store making pies for sale.

She met her husband, Leroy Hilton Bowen, Jr., while working at Goldstein's Department store in Prince Frederick. They were married in 1946, and built a home and raised their five children on Stoakley Farm. She was a deeply loving and devoted farmer's wife, mother, neighbor and friend of many. She enjoyed cooking and took much joy in bringing family and friends together around the table for a meal and conversation. She took much pride in maintaining the busy farm house in pristine condition and spent many hours canning and gardening.

As her children grew up she began taking on and mastering hobbies of ceramics, cake decorating and quilting. She was employed in public service as a nurse's aide at Calvert Memorial Hospital, as well as, worked at the Calvert Junior High School cafeteria. Her grandchildren were her pride and joy. She would do anything she could to support them and teach them right from wrong. Her grandchildren loved and spent many days on the farm. She loved going to church and even as her health prevented her from attending church in later years she worshiped from home where her favorite hymns could be heard throughout the farm home that reflected a lifetime of devotion to those she loved.

She was preceded in death by her husband of 66 years, her beloved grandson Roy Wesley Bowen who died in 2005; her parents; sister Alice Marie Thrasher and brothers Thomas Carroll Parks and Daniel Warren Parks. She is survived by her sister Anne Marie Elliott; five children: Connie Lynn Cosgrove and her husband John A. Sr.; Thomas Leroy Bowen and his wife Jo Ann; Pamela Carol Cooksey and her husband Thomas D., Jr.; Debora Kaye Ireland and her husband Jeffery H.; and Paula Denise Amos and her husband Paul L.; grandchildren: John A. Cosgrove Jr. and his wife Cathy; Daniel S. Bowen and his wife April; Christopher D. Hiner, Sarah E. Amos and Joey P. Amos; and her great grandchildren: Kaitlyn and Wesley Cosgrove, Cameron Wesley Bowen and Addie Kaye Hiner.

Visitation will be held at Rausch Funeral Home, 4405 Broomes Island Road, Port Republic, MD 20676 on Monday, August 20, 2018 from 2-4 pm and 6-8 pm. The funeral service will be held Tuesday, August 21, 2018 at 11:00 am at Huntingtown United Methodist Church, 4020 Hunting Creek Road, Huntingtown, MD 20639 followed by Interment at Asbury Cemetery, 3700 Hallowing Point Road, Barstow, MD 20610. In lieu of flowers, contributions can be made in her memory to Huntingtown United Methodist Church.