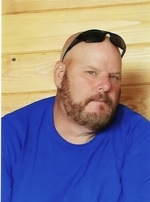 Michael Anthony Lee Sr. was born August 21st, 1965 in Leonardtown, MD. He unexpectedly passed on August 6th, 2018 at the age of 52. Michael was employed by Jimmy Richards and Sons Excavating Inc. for many years as a heavy equipment operator and pipe layer. He occasionally worked at Ye Old Town Cafe doing what he enjoyed; cooking and baking. Michael also created a side business selling his cakes and pies, he had dreams of one day opening a bar of his own called "Mud Puddles"

Michael was an enthusiastic character who always left people with a smile. He was always singing, dancing, and cracking jokes. He enjoyed baking; his cakes and pies were well known throughout the county while his Mac and cheese was a hit at every gathering. He had a passion for yard sales; was always trying to get the best deals! Even if he didn't need the item. Michael adored spending time with his family and his grandchildren.

Michael is survived by his loving wife Wendy Ellis and was blessed with three wonderful children: Emily (Tyler) Fisher, Michael Anthony Lee Jr, and Lyndsie Lee. His grandkids Jacob Fisher, Natalie Fisher, Elaina Fisher, and Matthew Fisher. His two god children T.J Briscoe, and Mikey Combs. He is also survived by a large extended family. His siblings Lenny (Christine) Lee of FL, John (Karen) Lee, Mark (Trish) Lee of Lexington Park, MD. Cindey (John) Tamayo of Fairfax, VA, Chris Lee of Glen Burnie, MD, Patsy (Thomas) Briscoe and Julie (Glenn) Dove of Park Hall, MD. His mother-in-law, Brenda (Jamie) Mattingly, Sister-in-law Cindy (Patrick) Longfield, and brother-in-law Mike (Rebecca) Ellis. His uncle Billy Lee of MD. He is loved and appreciated by many nieces, nephews, family and friends. He is preceded in death by his parents John "Bobby" Lee II, Barbara and Cornelius Courtney, Father-in-law Thomas "Tommy" Ellis, his nephew Christian Ellis, and his best friend Randy Brooks.

The family will receive friends on Monday, August 13, 2018 from 5:00PM to 8:00 PM with prayers recited at 7:00 PM in the Mattingley-Gardiner Funeral Home, Leonardtown, MD. A Funeral Service will held on Tuesday, August 14, 2018 at 10:00 AM in the Funeral Home Chapel, Leonardtown, MD. Interment will follow in Charles Memorial Gardens, Leonardtown, MD.