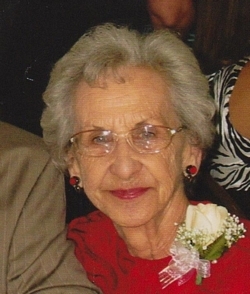 Joan Marilyn Rahill Gott, 82, passed away surrounded by her family on August 3, 2018. She was born on August 4, 1935 in Vallejo, CA to Violet and Richard Rahill Sr. She married Walter Mormon Gott Jr. on August 3, 1957. Joan was preceded in death by her husband, Walter, her parents, Richard Sr. and Violet, and her siblings, Richard Rahill Jr. and James Rahill.

Joan was a well-known teacher and principal at Beach Elementary. Upon her retirement, she became an active member of the Calvert County Retired School Personnel Association. During her time with this organization both she and Walter were very active in developing a program to bring attention to the Port Republic One Room School House located on the grounds of Christ Church in Port Republic, MD. Joan also enjoyed gardening, sewing, and spending time with her family.

Joan is survived by her children, Randall Gott and his wife Patricia of St. Leonard, and Judy Gott Mabry and her husband Russell of Prince Frederick. She is also survived by her grandchildren, Rebecca Mabry Smith, Jacob Gott, Patricia Gott Plumer, Cory Mabry, Kyle Gott, and Alison Mabry, along with her great-grandchildren, Eloise Smith, Kyleigh Plumer, and Sawyer Smith.

Visitation will be held at Christ Church in Port Republic, MD on Saturday, August 18th prior to the memorial service, which will begin at 11:00 AM. Arrangements by Rausch Funeral Home.