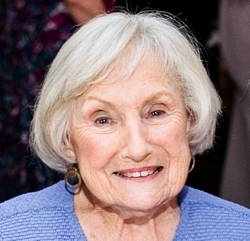 Emily Cecilia Allen, 97, of St. Leonard, MD passed away August 4, 2018. She was born May 19, 1921 in Washington, D.C. to Carl B. Wahler and Emily R. (Thomas) Wahler. One of seven children, she was raised in Congress Heights DC and graduated from Anacostia High School.

She married John Franklin Allen on November 30,1944 and they raised their family in Oxon Hill, MD, where they lived until retiring to Calvert County MD in 1981. After raising her family, Emily worked for 10 years in the Prince Georges County school system. After moving to Calvert County, she was extremely active in the MD Republican Party.

Emily was preceded in death by her husbands John Allen and Jack O'Leary. She is survived by her sister Pat Shook, her children John (Kay), George (Karen), James (Pam), Robert (Christie), Mary Smith (Mike), and David (Michele), thirteen grandchildren and twenty-two great-grandchildren.

Contributions made in the memory of Emily Allen can made to American Macular Degeneration Foundation, P.O. Box 515, Northampton, MA 01061-0515. Arrangements by Rausch Funeral Home.