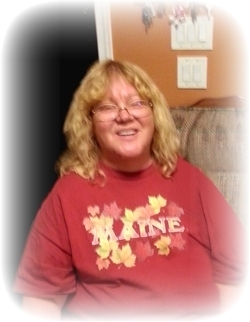 Darlene Ann "Dee" Palmer, 58, of Lexington Park, MD passed away Sunday, July 29, 2018 at Hospice House of St. Mary's in Callaway, MD. She was born on June 23, 1960 in Baltimore, MD to Charles Dollenger and Carolyn Virginia Cameron.

Darlene met her husband Earl Palmer III a blind date on February 1980. The two were married in Chesapeake, VA on May 2, 1980 and have been happily married for 38 years. The couple have lived numerous places since Earl was in the Navy. They lived in Chesapeake, VA for a bit then they moved to Norfolk, VA until he got out of the Navy in January 1982.

Once her husband was out of the Navy they moved in with her mother-in-law in November 1982 in East Greenwich, RI until her husband reenlisted in the Navy again. Her husband reenlisted in the military in 1982 and they were stationed for 3 years in Milton, FL, then they did a year in Portsmouth, VA until her husband finished his last duty station there and then they moved to St. Leonard, MD to live with her sister-in-law in Lusby, MD. Darlene and her family eventually settled in Lexington Park, MD at Suburban Trailer Park where she lived until Darlene asked for help from Hospice.

Darlene had many jobs during her lifetime, starting with her father's Sub Shop in Portsmouth, VA. She worked at the Canteen at the Calvert Cliffs Nuclear Power Plant in Lusby, MD and also at the High's convenient store in Solomon's, MD. She also worked at the CVS in Lexington Park, MD until she was hired on at Trico Mental Health. After working at Trico she transferred to Vesta where she worked for 5 years, caring for disabled adults. Darlene excelled wherever she worked.

In Darlene's spare time she loved to do make crafts for other people it gave her pleasure to see someone smile. She won many ribbons at the fair for her crafts. She had started a project for an expectant mom at the cancer center called a teddy bear carousel but she was unable to complete because of her health. However she was able to make tissue box covers for the Cancer Center in the Wildewood Shopping Center. Darlene made friends wherever she went and would make them a craft to remember her by.

Everyone will miss her deeply. A quote from friends that her and Earl played a Playstation game with said "your Dee was loved by all who met her. She touched our lives with most of all her gentle heart. God has a place in his loving arms. Thank you for sharing her with us. She played a computer game to be apart of her husbands' gaming world and would spend hours of fun with him even if she didn't like to play. She enjoyed watching Nascar especially driver Jeff Gordon and she enjoyed watching the Washington Redskins play football to be closer to her husband. One game she enjoyed playing was Elders Scrolls and she played it until she got sick and couldn't anymore.

Dee and her great friend Tina Greer had lots of talks, fun times, laughs and lunches together. They even quit smoking together on August 24, 2013, Dee made lots of nice gifts for everyone because of her grate heart. It's been 27 years of good times. I will miss you more than words can say. It will be me like you told me and drink diet coke. Love you forever until we meet again, love Tina XO.

Darlene was a co-worker and true friend she worked until she could work anymore. We met at Trico Mental Health. She was like a sister to me, which I was my mother's only child. Darlene was such a help to me always encourage me to keep on going don't stop. She was loving, Kind, giving and understanding. She had an ear to listen. Try to see if she could solve your problems if she could lol. She was good at work, fast and worked great with the clients. Darlene was very gifted and smart. Darlene favorite saying to me was "Ain't nothing but a thing" no matter what it was. I will miss you dearly, won't be able to call you on the phone when someone makes me mad. Darlene will be dearly missed. My friend RIP.

In addition to her beloved husband Earl, she is also survived by her three sons, Bradley Dollenger, Earl Palmer IV (ES nickname) and James Palmer (Jimmy) all of Lexington Park, MD. She has a grandson, Kyle Nathan Dollenger of Towson, MD. Her step-mom Joyce Dollenger and her Aunt Loyce were more like her sisters both from Hogarth, ME. Her brothers Andrew Dollenger of Allentown, PA and Charles George Dollenger Jr. of Norfolk, VA. Her best friend Tina (Buck) Greer of California, MD and Jean Annette Fontayne and family of Lexington Park, MD.

She is preceded in death by her parents Charles George Dollenger and Carolyn Virginia Cameron. You will be greatly missed by all the people's hearts you have touched. A celebration of life will be held on October 20th 2018. Arrangements by the Brinsfield Funeral Home, P.A.