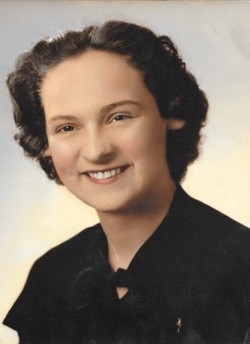 Our beloved Mom, Romayne Helen Osborn (a.k.a. Mommom), of La Plata, MD, passed away on Thursday, August 2, 2018 at the age of 90. Romayne was born to William and Olga Lubitz on August 16, 1927 in Perham, MN. She grew up as the youngest of five and attended Perham High School. After high school she moved to Washington, DC, and worked at the Pentagon, where she met her future husband.

On November 22, 1947, she married Charles Osborn. After marriage, she moved to Beltsville, MD, where she and her husband started their family. Since he was in the army, they then moved to Minnesota, Germany, Texas, and back to Maryland. While in Maryland, she worked at Behnke Nursery and later at Control Data/Arbitron, where she retired.

She was a hip grandma who enjoyed her computer, had a Facebook page, and enjoyed drawing, painting, coloring and word searches. She had a great sense of humor and loved a good joke, even the dirty ones. She played the piano, the accordion, the ukulele and loved to sing harmony. She will be greatly missed.

Romayne is survived by her daughters, Lynne Bland (John Hackley), Wendy Racey (John); her son, Bill Osborn (Ellen); ten grandchildren; fourteen great-grandchildren; and ten great-great grandchildren. She was preceded in death by her husband, Charles Osborn; her daughter, Melanie Crisp-Stone (David); her parents, William and Olga; her sisters, Grace Booth (John) and Velma Dillard (Raymond); and her brothers, Lawrence (Wilma) and Laverne Lubitz (Leona).

She will be cremated and then buried at Arlington Cemetery at a later date. The family is grateful for the condolences. In lieu of flowers, donations may be sent to Hospice of Charles County, 2505 Davis Road, Waldorf, MD 20603. They were a big help in the family's time of need. Arrangements by the Brinsfield Funeral Home, P.A.