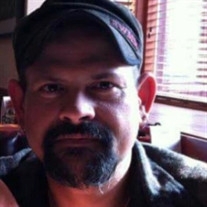 Steven E. "Bear" Betts, 46, of Waldorf, MD died Friday, August 3, 2018 at his home. The son of David E. Betts and the late Linda D. Betts of Waldorf was born at Torrejon AB, near Madrid, Spain, and raised in Texas, Arkansas and southern Maryland. Steve is survived by his father, his sister Jennifer Betts Shettle (Mrs R. John Shettle) and nephew Ethan of Waldorf. He is also survived by his grandmother, Mrs. Roderick E. Thomas, of California, MD, and many aunts, uncles, cousins and friends.

He was a graduate of Croom High School (PGC) and the CRST Academy, and for most of his adult life was employed as a long-distance and regional truck driver. Steve was an outdoorsman, whose favorite activities included fishing, hunting, camping and boating, and activities with his nephew. Steve had served as a U.S. Marine, and was a long-time member of Rolling Thunder MD-1 and an activist for veterans' rights.

Friends will be received Thursday, August 16, at Lee Funeral Home, 6633 Old Alexandria Ferry Rd, Clinton, MD. Viewing will be 10 A.M. until noon, Service at 12 noon, and commitment ceremony at Heritage Memorial Cemetery in Waldorf. Memorials in Steven's name may be made to Rolling Thunder Maryland 1, P.O. Box 44152, Fort Washington, MD 20749, or the Charlotte Hall Veterans Home, 29449 Charlotte Hall Rd, Charlotte Hall, MD 20622. Arrangements by Lee Funeral Home.