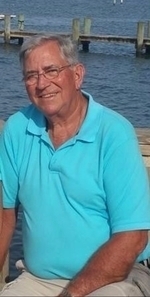 Robert "Bobby" Aloysius Hill, 77, of Avenue, MD passed away on August 5, 2018. Bobby was born January 29, 1941 in Maddox, MD. He was the son of the late Zachary Joseph Hill Sr and Mary Edith Hill. Bobby was the loving husband of Catherine Norma Hill and is survived by their four children: Barbara Lynn Clothier (Eric) of Clements, MD; Robert Allen Hill (Heather) of Hollywood, MD; Rene Alice Douglas (Kenny) of Clements, MD and Angie Marie Haynes (Kevin) of Mechanicsville, MD; 8 grandchildren: Danielle Douglas, Shannon Wilkinson (Travis), Kyle Clothier, Cody Douglas (Karli), Kolby Haynes, Dylan Hill, Mandi Hill and Kolton Haynes; and 2 great grandchildren Brody Douglas and River Douglas. He is also survived by his siblings Celie Hill, Edith Mae Bell, Betsy Guy, and Ree Knott. He was preceded in death by his son Ronald Aloysius Hill and his sisters Mary Loretta Lawrence and brothers Jimmy and Zack Hill.

Bobby was a lifelong resident of St. Mary's County born and growing up on a farm in Chaptico. He graduated from Margaret Brent in 1960. He married the love of his life, Catherine, on October 4, 1963 and they briefly moved to Washington DC to start his career as a meat cutter. Bobby retired from Safeway with 32 years of service in 2007. For the past several years he spent time helping Betty and Walter Russell at Russell Farms. His passion the great outdoors, spending time on the water boating, fishing, and crabbing. He adored feeding and watching the squirrels, birds and deer. He was an avid gardener, growing and sharing his vegetables. His special interests included collecting ducks and loved growing his collection.

Bobby truly lived life to the fullest through simple pleasures, spending time with family and friends, and attending local events. He was the most loving, kind and generous man who adored everybody. His greatest love was spending time with his children, grandchildren and great grandchildren. Bobby was truly blessed to be surrounded in love by his amazing family and friends.

The family will receive friends on Friday, August 10, 2018 from 5:00 PM-8:00 PM with prayers recited at 7:00 PM in the Mattingley Gardiner Funeral Home, Leonardtown, MD. A Mass of Christian Burial will be celebrated on Saturday, August 11, 2018 at 10:00 AM in Sacred Heart Catholic Church, Bushwood, MD with Father George Wilkinson officiating. Interment will follow in the Church Cemetery. Pallbearers will be: Eric Clothier, Kenny Douglas, Kevin Haynes, Kyle Clothier, Cody Douglas, Kolby Haynes, Dylan Hill and Kolton Haynes. Honorary Pallbearers will be: Danielle Douglas, Shannon Wilkinson, Mandi Hill, Brody Douglas and River Douglas. Contributions can be made to the Seventh District Rescue Squad, PO Box 7, Avenue, MD or Seventh District Fire Department, PO Box 206, Avenue, MD.