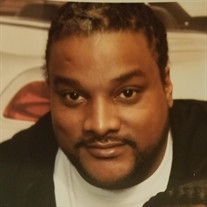 Kendel Lamar Parker, Sr. gained his wings on August 3, 2018 in La Plata, MD. Kendel was born on March 2, 1984 in Prince Frederick, MD to Betty Parker and Gerald Parker, Sr. Kendel was preceded in death by his grandparents, Dorothy Mae Brown, Allen and Emily Parker, uncle, Joseph L. Brown, and aunt, Barbara A. Mackall.

Kendel attended Calvert County Public Schools and Charles County Public Schools. He had been employed with Atlanta Metro Cast and more recently with Beltway Truck and Tire, which he was proud of because he got to do something that he enjoyed - driving trucks. He had a lot of hobbies that he loved doing such as riding dirt bikes/four wheelers, playing with remote control vehicles, cutting hair, buying and selling vehicles, perfecting his cooking skills, spending time with family and friends, and keeping up with the latest fashions.

He leaves to cherish his mother, Betty Parker/Stanley Proctor, Jr. and his father Gerald Parker, Sr./ Sylvia Parker. In addition, his three precious children, Kendel Parker, Jr., Kyvon Parker and Ky'layia Parker, as well as his soulmate and best friend, Shadonna Barnes. He also leaves his siblings; Colin Harris/Janille, Stanley Proctor 3rd / Martika, Trayvon Richardson, Edward Coates, Ashley Proctor, Mitchell, Gerald Parker, Jr., Kyle, Antonio, Albert, Damien and Dominique. His Grandfather - Roger J. Brown. Nieces - Jade, La'Maia, Kimya, Arriana, Ty'laya, Ta'kyla. Nephews - Jamari and Mitchell. Aunts and Uncles - Robert Harris/ Christine, Charlotte Brown, Allen Jr., Janice, Wayne, Joyce, Devin, Penny. Special friends - Brian Thomas, Lante Proctor, Lil Windell and a host of family and friends.

Friends received on Monday, August 13, 2018, from 10 AM until time of funeral service at 12 noon, at New Life Church, 9690 Shepherds Creek Pl, La Plata, MD 20646. Interment to follow in church cemetery. Arrangements by Raymond Funeral Service.