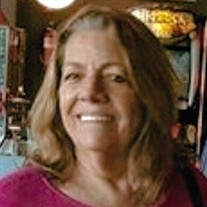 Myra Anne (Rawlings) Shea, 76, of Waldorf, MD passed away peacefully on Thursday, August 2, 2018 at Hospice House of Charles County following a decline in health and valiant battle with cancer. Born on July 7, 1942 in Colonial Beach, Virginia she was the only child of the late Frances (Jenkins) Rawlings and Raymond Taylor Rawlings.

Myra grew-up at the beach, loving the boardwalk, live music, and the annual parades. She attended Oak Grove and Colonial Beach schools, Class of 1960. Myra was a strong woman and proud mother, raising her five children, Vickie, Billy, Michael, Debbie, and Kenny, in her hometown alongside her mother.

Always the beach lover, Myra enjoyed time in Florida before finding her way back home. One day while out dancing, she met her future husband John Shea. John and Myra could clear the dance floor doing the jitterbug. Together they found a fresh start and were wed in 1983. Her family grew with the addition of John's children, John and Debbie.

Myra retired from the restaurant industry, spending her free time with her friends and family and exploring her interests in healthy living. Over the years she enjoyed vacationing on the warm beaches of South Carolina, Florida, and the Caribbean. She instilled in her children and grandchildren a strong will, a love of the beach, and a deep appreciation for music.

In addition to her parents, Myra was preceded in death by her husband of 30 years, John Carl Shea Jr and her daughter Vickie Renee (Newman) Webb. She is survived by her four children, Billy Newman of Fernandina Beach, FL, Michael Newman of Waldorf, MD, Kenny Newman of King George, VA, and Debbie (Newman) Hatton of Hughesville, MD, two step children, John Shea of Severn MD and Debbie Shea-Tippett of Waldorf MD, 18 grandchildren, many great grandchildren, dear cousins, extended family, and friends.

Visitation will be on Saturday, August 11, 2018 at Raymond Funeral Chapel in La Plata, MD from 9:30 to 11:30 am with the service immediately following. She will be laid to rest next to her husband at Trinity Memorial Gardens in Waldorf, MD. In lieu of flowers the family kindly request that donations be made to Hospice House of Charles County.