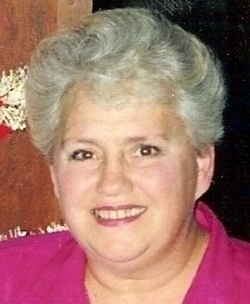 Pennie Lee LaBarge, 76, of Lexington Park, MD passed away Wednesday, August 1, 2018 at MedStar St. Mary's Hospital Center in Leonardtown, MD. She was born on October 29, 1941 in Plattsburgh, NY to the late Ralph Simpson and Marguerite Evelyn Stephens Simpson.

Pennie is a graduate of Plattsburgh High School in New York. On June 10, 1961 she married her beloved husband, Richard Henry "Dickie" LaBarge in Plattsburgh, NY. After becoming a Navy wife, they traveled to California, Cuba, and Virginia before moving to St. Mary's County with her husband and children in 1978. She was employed for many years as a mortgage broker with Maryland Bank and Trust and later by the Clerk of Circuit Court in St. Mary's County until her retirement.

Together they celebrated over 57 wonderful years of marriage. In 1973 she was a contestant on the original Jeopardy television show. She was an avid dancer and socialite. She enjoyed participating in dance groups, putting on performances, and going to dinner theaters. She and her husband also participated in league bowling and later coached bantam junior league bowling. As their children grew up they hosted seven foreign exchange students from various Scandinavian countries.

She went on cruises all over the Caribbean with her husband. She was active at the Loffler Senior Center in Great Mills, MD, and enjoyed playing BUNCO with her friends. She was a long time member of the Chief's Wives Club, the Red Hat Society, and attended Immaculate Heart of Mary Catholic Church. Her family was her greatest love and she enjoyed spending time with all of them, especially her grandchildren.

In addition to her beloved husband, Dickie, she is also survived by her daughters, Tammie LaBarge Holt (Jeffrey) of Buena Vista, VA and Deborah LaBarge Linehan (Thomas) of Lusby, MD; her siblings: Linda Jesse, Nancy Whisten, Robyn King (Leon), Michael Simpson, and Laurie Rossi; her grandchildren: David Russell Jr. (Jayme), Kimberly Russell (Troye Owens), Nicholas Linehan (Tara), Melissa Linehan, Joelle Watson (Leo) and Jeremy Linehan (Gabriella); her great grandchildren: Karmen Donaldson, Christian Russell, Gavin Linehan, and Piper Linehan; and many extended family and friends. In addition to her parents, she is also preceded in death by her children, Timothy Richard LaBarge and Amy Michelle LaBarge; and her siblings: Billy Simpson, Bruce Simpson and Jill Moore.

Family will receive friends for Pennie's Life Celebration on Saturday, August 4, 2018 from 5:00 to 7:00 p.m., with a Memorial Life Celebration Service at 7:00 p.m. at Brinsfield Funeral Home, P.A., 22955 Hollywood Road, Leonardtown, MD 20650. Interment will be private. Memorial contributions may be made to the Loffler Senior Center, 21095 Chancellors Run Road, Great Mills, MD. Arrangements by the Brinsfield Funeral Home, P.A.