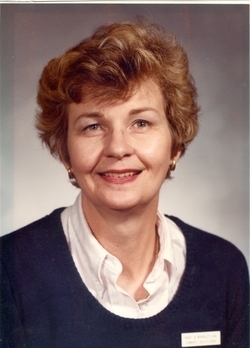 Mary Emily "Tootie" Wrabley, 82 of Mechanicsville, MD passed away on July 30, 2018 at MedStar St. Mary's Hospital in Leonardtown, MD. Mary was the daughter of the late Edward Ray Burroughs and the late Esther Hancock Burroughs. She was born in Leonardtown, MD on February 9, 1936.

Mary was a full-time Public Health Nurse with the Charles County Health Department for 32 years, then worked part-time for the Charles County Health Department until her retirement in 2008. She enjoyed sewing, quilting, crocheting, reading, baking and cooking, traveling, watching TV, playing solitaire, talking, family gatherings and reunions, and an occasional glass of wine. She especially enjoyed spending time talking and visiting with her grandsons.

Mary is survived by her loving husband of 60 years, Robert E. Wrabley, two sons, Neal (Deborah) Wrabley of Mechanicsville and Brian (Sheila) Wrabley of Mechanicsville, and two grandsons, Kyle (Adrienne) Wrabley of LaPlata and Ross Wrabley of Mechanicsville. In addition to her parents, Mary was predeceased by her siblings: George Ray Burroughs, Alice Louise Burroughs, Warren Hancock Burroughs, Lillian Margaret Sargent, Eva Elizabeth "Sally" Raley, Luther Kenneth Burroughs, Martha Lucile Dyson and Dorothy Ruth Burroughs. She is survived by her siblings, Esther Virginia "Ginnie" Miller of Aurora, OH and Janet Hazel Rowland of Leonardtown, MD.

Mary's Life Celebration Visitation for family and friends will be held on Sunday, August 5, 2018 from 2 to 5pm at Brinsfield Funeral Home, 30195 Three Notch Road, Charlotte Hall, MD 20622. Funeral Services will be held on Monday, August 6, 2018 at 10am at All Faith Episcopal Church, 38885 New Market Turner Road, Mechanicsville, MD 20659. Interment will follow in the Church Cemetery.

Pallbearers will be: Kenny Mueller, Dennis Burroughs, Mike Burroughs, Mike Huntington, Charlie Raley, and Christopher Dyson. Memorial donations may be made to: Mechanicsville Volunteer Rescue Squad, P.O. Box 15, Mechanicsville, MD 20659. Arrangements by the Brinsfield Funeral Home, P.A.