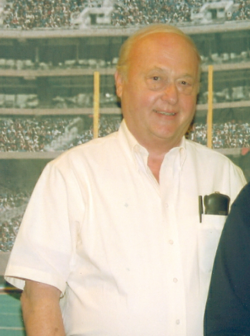 Ernest "Ernie" Joseph Keller, Jr., 82, of Waldorf passed away on July 29, 2018. Born March 5, 1936 in Washington D.C., he was the son of the late Ernest Keller Sr. and the late Rosina Hartman Keller. At the age of 20, Ernest Jr. followed in his father's footsteps and opened his own business operating school buses for Charles County Public Schools. In 1963, Ernest continued to build the future of Keller Transportation and purchased the company's first motor coach. His leadership, guidance and 62 years of dedication led Keller Transportation to be a trusted fixture of the Southern Maryland community.

Ernest married Helen "Betty" Mudd Keller on October 3, 1959 and they enjoyed 58 years of marriage. He loved spending time "out west" and cherished his view of Jobs Peak at his Gardnerville, Nevada home. He also loved traveling the world, cheering on his Washington sports teams and trying his luck on the slot poker machines. He was also actively involved in the Lion's Club and a faithful member of St. Mary's Bryantown Catholic Church.

Ernest, a beloved husband, father and grandfather, is survived by his wife Betty Keller; his brother Edwin Keller, his children, Susan Keller Miller (Larry), Bonnie Keller Mallan, Ernest Keller III (Leigh Ann) and Charles Keller (Robin, deceased) and his grandchildren, Sarah Mallan, Morgan Miller, Emily Keller, Matthew Miller, Lindsey Keller, Caroline Keller and Courtney Keller. He is proceeded in death by his parents and sister, Ellen Keller Heilmeier, and other family and friends.

The funeral service will be held at St. Mary's Bryantown, on Friday, August 3, 2018 at 11 am. Viewing will be held at Brinsfield-Echols Funeral Home on Thursday, August 2, 2018 from 2-4 pm and from 6-8 pm, with Prayers beginning at 7pm. Catholic burial will follow the funeral Mass.

The Keller family would like to extend a heartfelt thank you to the Dorsey family for their support and dedication in establishing the family business, that has been such a mainstay of the Southern Maryland community. They would also like to thank the many students, commuters and travelers that have been such a vital part of Ernest's passion for connecting people to the things that matter.

In lieu of flowers memorial donations may be given to St. Mary's School, 13735 Notre Dame Place, Bryantown, MD 20617. Pallbearers will be: Edwin Keller, Jr., Martin Keller, James Wills, Joseph Mudd, Jr. Alexander Heilmeir. Honorary pallbearers will be: John Dorsey, Jr., Charles Bridgett, Joseph Shifflett, Ersel Livingood, Charles Boone, Laurence Miller and Joseph Robinson.