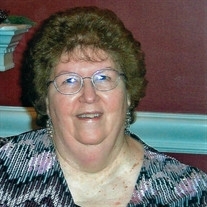 Sally Arlene Carter, 78, of Waldorf, Maryland, died on July 28, 2018 at her home, surrounded by her loving family. Born on November 18, 1939 in North Carolina, she was the daughter of the late Effie McKeel Ginn and Charlie Ginn. Sally Carter was a homemaker, Mom and Granny. She was an avid reader, a diehard fan of the Washington Redskins and Washington Nationals. She especially loved listening to Elvis Presley.

In addition to her parents, she was preceded in death by her six sisters and one brother. Sally Carter is survived by her husband of 60 years, Jimmy Carter; children Michael Carter and his wife Joann Carter; Karen Carter and her husband Phil Hughes, Tammy Talbott and her husband Malcolm Talbott Jr., and Jennifer Shifflett and her husband Steve Shifflett; grandchildren Kristen Grandstaff, Amber Talbott, Susan Carter, Justin Talbott, and Jacob Carter; great-grandchildren Blake Flerlage, Cody Flerlage, Kai Edwards and Zaileigh Edwards and numerous nieces, nephews, other relatives and friends.

Family and friends to gather on Monday, August 6, 2018 at 3 PM with the memorial service to follow at 4 PM at Raymond Funeral Service, P.A. 5635 Washington Avenue La Plata, Maryland 20646. Interment will be private. In lieu of flowers, memorial contributions may be made to the American Liver Foundation 1528 Walnut Street Suite 2020 Philadelphia, Pennsylvania 19102 or to the Hospice of Charles County 2505 Davis Road Waldorf, Maryland 20603.