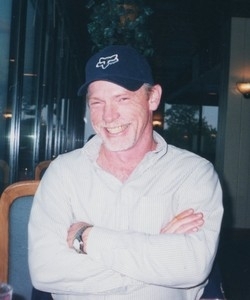 Jeffrey Joel Kenward, 56, of California, MD passed away on July 25, 2018 at his residence with his loving wife at his side. Jeffrey was born on July 3, 1962 in Medina, NY to David Kenward of Medina, NY and the late Patricia (Kelly) Kenward. In 2002, Jeff married his beloved wife, Patricia. Together they celebrated over 15 wonderful years of marriage. His hobbies also including mowing his grass, watching NASCAR, and dining with his friends and family. He made Christmas cookies every year with his wife, and it was something he looked forward to doing.

He spent his career working in construction. He was a talented craftsman and built many beautiful pieces for friends and family, including a rocking horse for his daughter Amy. He lived for Motor Cross and raced on the amateur level. He was a "wrencher" for many in the sport. He was meticulous with all his vehicles and he keep the engines in pristine condition. He also built his own trailer for his Motor Cross bike. His best friend, Tom, was a professional Motor Cross rider and Jeff was his reliable and talented wrencher. Together they participated in the Vegas Shoot Out twice.

In addition to his father, Jeffrey is survived by his beloved wife, Patricia Frances Kenward; children, Todd Kenward (Krystal) of Raleigh, NC, and Amy Kenward of Winter Garden, FL; siblings, Terry Sipala (Art) of Coatesville, PA and Chad Kenward (Mindy) of Medina, NY; nieces and nephews: Vinny Sipala, Madison Kenward, Hannah Kenward and Cameron Kenward; best friends, Tom and Corola Turner and their children, Markus and Lucus; and many aunts, uncles, cousins and extended family and friends. He was preceded in death by his mother.

Family will receive friends for Jeffrey's Life Celebration on Saturday, August 11, 2018 from 12:00 to 3:00 p.m., at Brinsfield Funeral Home, 22955 Hollywood Road, Leonardtown, MD 20650. Interment is private. In lieu of flowers, memorial contributions may be made to Hospice of St. Mary's, P.O. Box 625, Leonardtown, MD 20650 or the American Cancer Society, 405 Williams Court, Ste. 120, Baltimore, MD 21220. Arrangements by the Brinsfield Funeral Home, P.A.