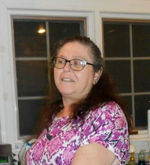 It is with great sadness that the family Of Deborah Lynn West announces her passing after battling cancer on July 25, 2018. Deborah was a grandmother, mother, aunt, daughter, and sister passed away at the age of 60. Debbie will be dearly missed by Charles Wilson, her long time boyfriend.

Debbie will be remembered by her children, Steven West (Mechanicsville, MD), Michele (Adrian) McCathern (Fort Hood, TX), Shanna (Justin) Douglas (Columbia, MD), April Simpson (Lexington Park, MD), and Eva West (Cedar, MN). Debbie will also be remembered by her ten grandchildren, Kayla, Claudia, Jasmine, Machai, Sanayi, Justin Jr, Teresa, June, Alexis, and Epiphany. Her Sisters Valerie West (Norfolk, VA), Cheryl Stubbs (Augusta, GA) and her brother Michael West (Mechanicsville, MD) will miss her dearly. She is proceeded in death by her parents Melvina and Donald West Sr. Brothers Donald West Jr, Robert West, and Chuck West. As well as a nephew Donald Joseph. She will be remembered as a lady that loved to cook and to help anyone in need.

A Funeral Service will be held on Friday August 3, 2018 At Callaway Baptist Church at 10:00 am. Those who desire to make memorial donations in memory of Debbie you can send them to Mattingly-Gardiner Funeral Home.