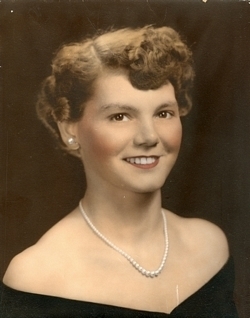 Mabel Lucille Vaughn, 92, of Dunkirk, MD passed away July 26, 2018 at her residence surrounded by family. She was born December 21, 1925 in Prince George's County to Georgia A. (Windsor) and Elmer George Perrie.

She was raised in Croom, MD and graduated from Frederick Sasscer High School in Upper Marlboro. She married Edward J. "Eddie" Vaughn and was employed as a meat packer for Briggs Meat Company for over 30 years. She also worked for over 20 years at the Hair Company in Wayson's Corner, retiring at age 91. Mabel enjoyed R.V. camping with her husband, working, and spending time with family and friends.

She was preceded in death by her husband Eddie in 2004. She is survived by her daughter Connie E. Thompson of Dunkirk, a grandson Frank E. Brodnax of Baltimore and his former spouse Maureen, great-granddaughters Madison and Michaila Brodnax, a sister Alice P. Hopkins of Cheverly, MD, and many nieces and nephews. She was also preceded in death by a sister Doris Smith and brothers Howard "Sonny" Perrie and Edward Perrie. Arrangements by Rausch Funeral Home.