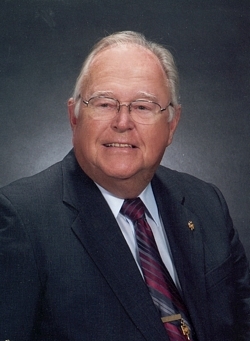 Daniel Wayne "Danny" Gibson, 81, of Huntingtown passed away July 26, 2018. He was born August 24, 1936 in Huntingtown to Wayne Sylvester and Marie Elizabeth (Bowen) Gibson. Danny was raised in Huntingtown and graduated from Calvert High School in 1954. Following high school Danny served in the National Guard.

He married Dorothy Hardesty Ward on July 28, 1960 and they made their home and raised their family in Huntingtown. Danny was employed as an insurance agent for over 40 years and was also the office manager with Monumental Life Insurance Company. Danny was also a lifelong farmer, raising tobacco, cattle and hay.

He was a member of Huntingtown United Methodist Church, where he served on numerous boards and committees. Danny was also a member of the farm bureau and Ducks Unlimited. In his leisure time he enjoyed traveling, going on insurance company trips, working, and spending time with his family and his many friends and business associates.

Danny is survived by his wife Dorothy H. Gibson of Huntingtown, son Richard E. Ward and his wife Patti of Huntingtown, grandchildren Tammi Gross, Chris Ward, Shelley Weber, Gary "Chip" Ward, and Charles Jeffrey "CJ" Ward, 9 great-grandchildren and 1 great-great-granddaughter. He was preceded in death by his sons Charles and Gary Ward and Jeffrey Gibson, his parents, and a sister. Arrangements by Rausch Funeral Home.