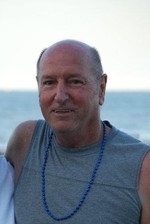 Roger Bernard Mundey, 67, of Clements, MD passed away on July 21, 2018 at his residence. Born June 4, 1951 in Washington, DC, he was the son of the late Mary Margaret Smith Mundey and Roy Hamilton Mundey. Roger was the loving husband of Charlene Mundey, whom he married on November 19, 2005 in St. Ambrose Catholic Church in Cheverly, MD.

He is survived by his children: Roger Mundey, Jr., Wayne Mundey and Cherie Warren, brother, Richard Mundey of Zephyrhills, FL, and 8 grandchildren. In addition to his parents Roger was preceded in death by his siblings: Lilian Rouse, Roy Mundey, Robert Mundey, Raymond Mundey and Joan Mundey.

Roger served in the U.S. Army from February 4, 1971 to January 29, 1973 serving in the Vietnam War earning the National Defense Service Medal. He was a Maintenance Technician for a Property Management Company retiring in 2013, Roger moved to St. Mary's County in 2007, he was a member of the American Legion Post 217.

The family will receive friends on Tuesday, July 31, 2018 from 10:00AM to 11:00AM in Holy Angels Catholic Church, Avenue, MD, where a Mass of Christian burial will be celebrated at 11:00AM with Father Samuel Plummer officiating. Interment will follow in Sacred Heart Cemetery, Bushwood, MD. Pallbearers will be: Michael Costa, Harry Haywood, Kenny Mundey, Joseph Mundey, Michael Mundey and Jonathon Baxter. Memorial contributions may be made to the 7th District Volunteer Rescue Squad and/or Holy Angels Catholic Church.