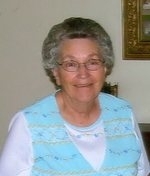 Ida Mae Swecker, 85, of Mechanicsville, MD, formerly of Elkins, WV passed away on July 24, 2018 in her home. Born on January 19, 1933 in Elkins, WV she was the daughter of the late Beulah Bright Canfield and Bernard Canfield. Ida was the loving wife of Edward L. Swecker whom she married on June 22, 1953 in Montrose, WV.

She is survived by her children; James Swecker (Janet) of St. Leonard, MD and Janet Young (David Bean) of Mechanicsville, MD. 3 grandchildren; Christopher Swecker (Alyson), Jenny Swecker and Justin Bean. Ida is preceded in death by her siblings; John Canfield, Sewell Canfield, and Martha Canfield Digman.

Ida graduated from Elkins High School in 1950 and Clarksburg Business College in 1952 earning an Associate Degree. She moved from Elkins, WV to St. Mary's County MD in 1964. Ida was a housewife.

The family will received friends on Friday, July 27, 2018 from 9:00 AM-10:00 AM in the Mattingley-Gardiner Funeral Home Leonardtown, MD where a Funeral Service will be held in the Funeral Home Chapel with Pastor Trish Watson officiating. Interment will follow in First Saints Community Church Cemetery Leonardtown, MD. Pallbearers will be: David Bean, Christopher Swecker, Tom Oliver, Richard Colliflower, Tom Preslar and Darwin Engle. Honorary Pallbearer: Kyle Olsen. Contributions may be made to First Saints Community Church 22550 Point Lookout Road Leonardtown, MD 20650 and/or Hospice of St. Mary's County P.O Box 625 Leonardtown, MD 20650.